Summer in Key West is known for fragrant Frangipani trees.
By Marjorie Paul-Shook - Key TV | March 21, 2013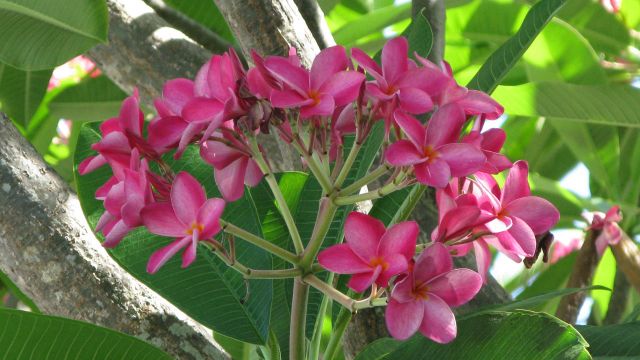 Key West, FL
Key West in the summer is colorful and steamy. The trees are all in bloom. The Royal Poincianas cover the streets in a blanket of orange red blooms. If you go to the top of the La Concha you can see these wonderful trees all over the island, making a patchwork quilt of colors. These giant bouquets decorate the football field for the high school graduation. The caps and gowns match these flowers.

Summer is also known for fragrant Frangipani trees. Frangipani arrive in many colors, pristine white, pale yellow, hot pink and coral. These flowers that also grow in Hawaii they are used to make beautiful leis. The mango trees are heavy with fruit. Also red and orange in color..

Key West summer is all about boating. Lately I've had many chances to go out on the water. The visibility is around 20 feet. Clear as glass. The true boaters know all the best spots where you can drop anchor and then walk to a lovely sandbar that starts out small and then turns into a beach. The dogs and kids play and romp. Through the day friends anchor and join the party. Maybe the best part is the sunset ride home, meandering through the mangroves remembering a perfect day. So if I may make a suggestion to you, come to Key West this summer and spend at least one day all day on and in the water. Spend one afternoon just walking the neighborhoods observing the flora and fauna and every day enjoying our fabulous restaurants with no wait... Key West, always perfect but summer brings out her true beauty. Come on down!