The Florida Keys' Overseas Highway is one of the 10 most beautiful drives in the United States.
By TripSmarter.Com | March 21, 2013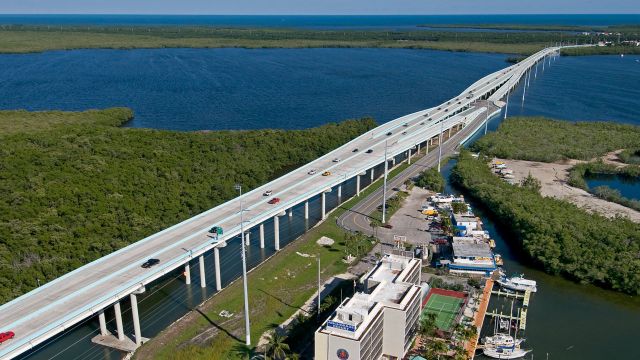 Key West, FL
The Society of American Travel Writers recently named the Florida Keys' Overseas Highway, which connects the island chain with the Florida mainland, one of the 10 most beautiful drives in the United States.

Sometimes called the Highway That Goes to Sea, the southernmost leg of U.S. Highway 1 stretches from the southern tip of Florida to Key West, with the Atlantic Ocean on one side and Florida Bay and the Gulf of Mexico on the other. Its 113 miles of roadway includes 43 bridges -- one measuring an incredible seven miles long -- that rise over the water in a series of giant arches of concrete and steel.

The Travel writers lauded the Overseas Highway for its "dreamiest views of crystalline waters and tropical life teeming above and among the reefs ... not many byways offer sunrise and sunset views."

The road follows a path originally cut by the Florida East Coast Railroad in the early 1900s. Completed in 1912, the railroad carried passengers throughout the Keys until a 1935 hurricane severely damaged the structure. The construction of the highway began soon afterward, using many of the original railroad bridges, and was completed in 1938. Thirty-seven bridges, including the renowned Seven-Mile Bridge at Marathon, were replaced with wider spans in 1982.

The "society" surveyed its members to select the top 10 scenic drives as air travel continues to decline and increasing numbers of American travelers take to the road. The society is composed of 1,300 professional travel journalists, photographers, editors and media relations specialists from throughout North America.

Other drives recognized by SATW include the Blue Ridge Parkway that winds through North Carolina and Virginia, South Dakota's Peter Norbeck Scenic Byway, the Acadia National Park Loop Road in Maine and the Going-to-the-Sun Road in Montana's Glacier National Park. The overseas highway, however, heads due south and it's worth remembering that the average temperature in Key West, its ultimate destination, is 76 degrees...year round! How can you resist?