So many mangoes... so little time! This year's crop deserves some superlatives.
By | March 21, 2013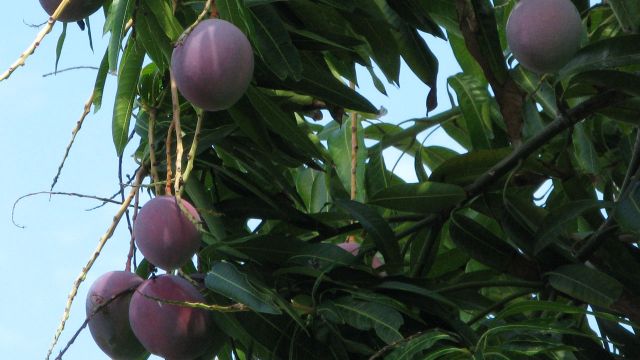 Key West, FL
Mid August, mid summer... Key West tries to take a rest. While children are preparing to go back to school, parents keep an eye on the coast of Africa and listen to the weather station for any tropical disturbance.

I have said it before, and I'll say it again. This is my favorite time of the year as a local in Key West. The streets are very quiet, the snowbirds have long since shuttered up the windows and flown away. With any luck they have left the rest of us easy access to the fallen fruit of the backyard Mango tree.

So many mangoes... so little time! This year's crop deserves some superlatives. The conditions were just right I suppose. Rain and sun coming together to produce large, heavy sunset colored fruit. Peeling and preparing a mango is a trick in itself. My husband is a master chef so he can do it any number of ways. (Including peeling a mango ; ). This year the preparation was made even easier because the large oblong pit was smaller and held less tightly to its sweet meat. The fruit is easily cut in half and scored inside it's skin into neat cubes you can just pop into your month or salad or over a piece of fresh caught yellowtail. Well, what can I say? What could be better? The taste and texture of a mango just picked off the tree is like a velvety combination of peach and coconut and pineapple with a slight hint of vanilla. So juicy you have to eat it hanging over your porch railing. By the end of August, it is all but over, a memory to hold till next summer when you have to eat too many Mangoes again.

I didn't mean for this entry to be exclusively about summer Mangoes; they are nice to think about, though. Here are some other topics I considered for this month... I thought of writing about how thankful I am that Key West seems to have dodged that sci-fi blob known as the BP oil spill. The fact we didn't get it doesn't make me any less grief stricken for our neighbors in Louisiana or for the poor hapless wildlife caught in this crazy world we humans have created. Hopefully we can be as creative in our clean up...

I also thought about writing about the Key West six toed cats. Did you know they are descendants of cats that escaped off the Spanish galleons anchored off Key West? They were prized mousers. Big mitts catch more mice! You can see these cats all over town, but you're guaranteed at The Hemingway House, where they have more than twenty. Glad I don't have to clean that cat box!

I'll save these topics for another day. In the meantime, slowdown - have a mango daiquiri or make some mango chutney or Mango jam....mango pie.....mango ice cream.... mango mostarta....Mango ketchup...mango ....mango ... mango......mango...