It's always warm here in Key West, so we have to look more closely to see the seasons change.
By | March 21, 2013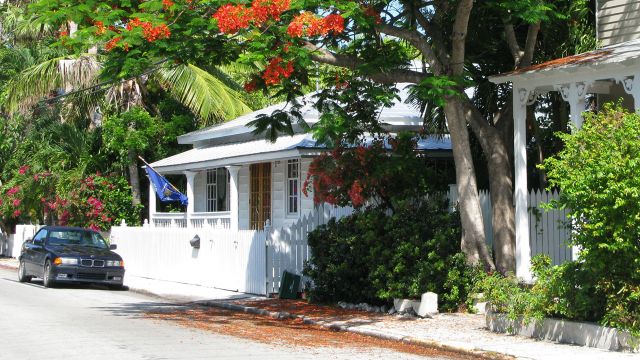 Key West, FL
School's out. Up North, the Community Pools are open. I can still hear the slap of wet feet on concrete, the whistle of the lifeguard. I can smell the changing room and Sea and Ski. Taste crinkle cut fries and ketchup. But, in Key West, it is a different kind of summer; it's always warm here in the Tropics, so we have to look more closely to see the seasons change.

Always a sign of summer are the wondrous blooming trees. Fragrant Frangipani and, of course, the stunning Royal Poinciana making a crimson canopy over the narrow streets. The giant red-orange bouquets also decorate the Football Stadium at graduation. It is such a lovely picture with the boys in red and the girls in white. Key West has such a deep sweetness in the people that live here.

Last weekend, I took a boat adventure. You'd think, living on an island, one would do that all the time. Not me. For a while I thought I had a curse. Every boat I went out on broke down. Once, I had to swim... towing a small sailboat with the rope in my teeth to return to Dog Beach after hours of being becalmed.

My next boating experience, a couple of handsome Park Rangers volunteered to take me out to Loo Key to snorkel the reef. Nothing could go wrong with the Rangers in charge, right? Wrong! We barely started toward the reef when the motor just cut off suddenly and we had to be towed to shore.

There were more incidents over the years, but I'm happy to report that my personal little spell of mishaps at sea has been broken. And, it shall never be spoken of again!

Lately, I've had many chances to go out on the water. And, oh my, what I have been missing! It is so stunning! Visibility from the boat to the bottom 20-30 feet. Clear as glass. Old time boaters know all the beautiful spots to anchor and walk your long board piled with umbrellas, chairs, snacks and cold beer to a sandbar that stretches out into a beach. The dogs and kids play and romp. Through the day, more friends drop anchor and join the party. Maybe the best part is the sunset ride home, meandering through the mangroves, remembering a perfect day.

So, if I may make a suggestion to you, come to Key West this summer and spend the day on the water. Summer is the best time of year for water sports, and you don't have to drive your own boat through uncharted waters. Many great companies offer a huge variety of trips. I recommend The Fury group. They have long time local captains that know exactly where to go. And, I'm happy to report that the boat won't break down! You will have the time of your life! It's Summertime, and it's time to get wet!