Be sure to support your local theatre when you're in the Keys.
By | March 21, 2013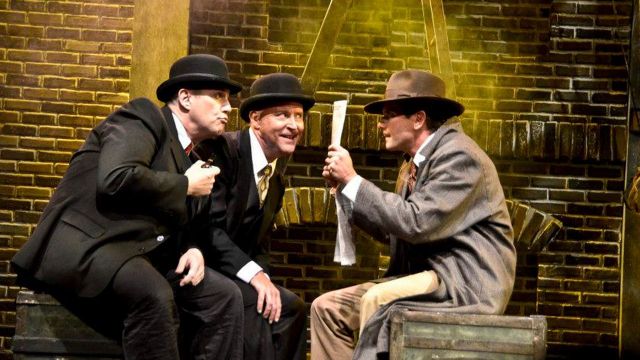 Key West, FL
There's certainly no shortage of things to do in the sunny Keys... diving, boating, shopping, basking in the sun... but what to do once night falls? Why not make it a night at the theatre? Key West has 3 professional theatre companies that stage one exciting production after another during the winter and spring months of "season" and exceedingly smart and witty community theatres are also delighting audiences in the Middle and Upper Keys. It's the best time of year in the Keys and Key West with festivals, special events and glorious weather to be sure, but Key West has a surprising number of professional actors in residence who sing, dance and well, love to act. They just choose to live here (in paradise) instead of the cold, concrete jungle of New York City; so, is it any wonder that professional theatre is alive and doing very well in the Keys and Key West?

The Waterfront Theatre kicked off its season this year with August: Osage County, "a sure-fire HIT to be sure with its hilarious and stinging look at the American family." Several other "top-notch" shows are scheduled for the Waterfront all the way through May 26th when the Waterfront brings down the final curtain for the summer. The Waterfront Theatre is located in the heart of Old Town Key West, right on Mallory Square! More details about future productions can be found on their website, Waterfrontplayhouse.org.

The Red Barn Theatre kicked off its season with Forbidden Broadway, "a hilarious night of sketch comedy that parodies musicals that have been hits on the Great White Way." The Red Barn keeps the action going with comedies, dramas and musicals until May 12th. If you're interested in more information on this stellar schedule, simply check out their website at redbarntheatre.com.

On Key West's Stock Island, you'll find the Tennessee Williams Fine Arts Center, one of the highlights of campus life at Florida Keys Community College. The center serves as a venue for out of town and local theatrical events highlighted this year by Monty Python's Spamalot in February, the Key West Pops, the South Florida Symphony and local favorite Bobby Nesbitt on piano with his popular Bobby in the Lobby shows in January and again in April. For their complete schedule log onto tennesseewilliamstheatre.com.

At mile marker 50, Marathon is home to a community theatre that makes very good use of all the talent in the Middle and Upper Keys. This entertaining theatre will be mounting productions through May 12th, beginning with The Dixie Swim Club in January which "features five Southern women who were friends in college and get together for a long weekend that helps them with life's challenges." The entire season is posted on their website, marathontheater.org.

The Key Players is another community theatre organization in Key Largo that plays in various venues around the Upper Keys. Their next show, Til Beth do Us Part, is scheduled for February and March at the Key Largo Lion's Club and more details are always available on their website, thekeyplayers.org.

So, be sure to support your local theatre when you're in the Keys. You'll be delightfully surprised as the curtain goes up that bright and sparkling entertainment never stops in the Keys... even when the sun goes down! See you at the theatre... tonight!