Check out this list of the ten best ways to keep your beach body while on vacation in the Keys.
By | March 21, 2013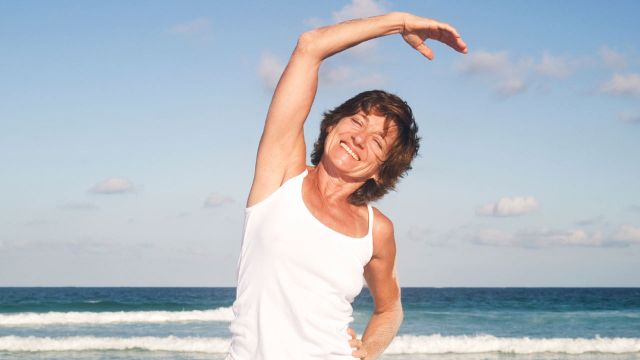 Key West, FL
10. Run or Walk
Be the tortoise or the hare either way you have to work harder to move on the sand meaning you'll blast more calories than you would pounding the pavement. And with the beautiful beach scenery your workout just became a bit more enjoyable.

9. Go to a Local Gym
Break out of your boring routine rut and try a new group class like yoga, spinning or a dance class. While on your water break get the insider info- ask the locals about their favorite restaurants, shops and sites.

8. Power Shop
So, maybe when you think of shopping you think of leisurely strolling through shops with a Grande Mocha Frappachino in hand. Well, take the pace up a few notches and lose the Frappachino. Shop for a couple of hours and you've burned just as many calories as a boring half hour cardio session on the elliptical machine.

7. Snorkel
Take advantage of the free time a vacation offers and try a new activity like snorkeling. Since swimming is a form of resistance movement even an easy snorkeling trip counts as your daily dose of exercise.

6. Beach Games
Get your booty off that towel and pick up a football, volleyball or paddleboard set. Remember, all movement is a form of exercise a good workout doesn't require a gym or even shoes for that matter.

5. Kayak
For a killer arm workout skip the reps and rent a kayak. If just dragging it out into the water doesn't tire you, paddling against the waves will leave your arms, back and shoulders feeling like Jell-O.

4. Tennis
Your hotel home for the week most likely has tennis courts so be sure to pack your rackets.

3. Swim
Swim laps in the pool or frolic in the ocean. Play a game of "Marco-Polo" with your kids, they'll love the fact that you want to play and you can burn the calories in that cocktail you just consumed.

2. Bike
I don't mean a moped, scooter or a Harley. I'm talking about the kind that requires you to pedal. With tons of beautiful places to ride there's no excuse not to sneak some cardio action into your vacation.

1. Try Something New!
Again, what better time to learn than on vacation! Try surfing, SCUBA diving, kiteboarding, Stand Up Paddle Boarding, Canoeing. It doesn't matter what, just anything that keeps your body in motion and your mind away from the fact that you are actually exercising.