The flowers and trees that grow so exuberantly on the island are showcased in a variety of colorful and often historic gardens.
By TripSmarter.Com | March 22, 2013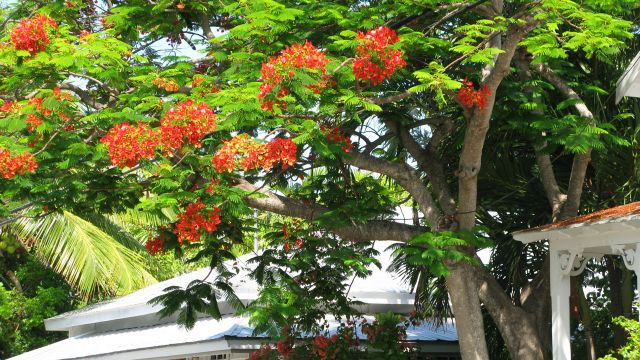 Key West, FL
An extraordinary abundance of plants, flowers and trees flourish in the warm subtropical climate of Key West. Lush blossoms cascade over white picket fences in the picturesque historic district, tropical blooms perfume the air along the winding lanes of Old Town, and the whisper of breeze-swept palm fronds offers an ever-present soundtrack to daily life.

The flowers and trees that grow so exuberantly on the island are showcased in a variety of colorful and often historic gardens. One of the most welcoming is Nancy's Secret Garden, a lush rainforest environment created and maintained by local artist Nancy Forrester. Hidden away off the 500 block of Simonton Street at the end of tiny Free School Lane, the garden has been described as a living work of art.

Towering palms, orchids, bromeliads and ferns fill the spacious garden -- as do the calls of the tropical birds Nancy has rescued and nurtured. Some plants are rare and endangered, and some are extinct in their original habitat, but all flourish in this enchanted spot. Nancy's Secret Garden is open to the public from 10 a.m. to 5 p.m. daily. For more information, call 305-294-0015.

Another unique garden can be found amid the remains of a Civil War-era fort. West Martello Tower, adjacent to Higgs Beach, serves as the home of the Key West Garden Club and is called the Joe Allen Garden Center. The garden club has maintained and planted the gardens in the ruins of the fort, which is listed on the National Register of Historic Places, since 1954. The fort's brick arches overlook the Atlantic Ocean and frame a beautiful garden of orchids, bromeliads, rare palm trees, indigenous plants and exotic species. The garden center generally is open from 9:30 a.m. to 3:15 p.m. Tuesday through Saturday. Annual plant rambles and garden shows also are offered, and the club usually presents tours of some of Key West's lovely private gardens each year. For more information, call the Key West Garden Club at 305-294-3210.

The Key West Botanical Garden on Stock Island is an eight-acre site believed to be the only old stand of tropical forest within the United States. Founded in 1936 and maintained by volunteers, it is situated just off College Road on Stock Island. The garden features abundant exotic and native plants, including a cloned champion green buttonwood and a rare locustberry that was the 10-millionth tree planted in the United States by the National Tree Trust. It has been selected as a "living library" by the National Champion Tree Project. A paradise for bird watchers, particularly during the spring and fall migration seasons, the botanical garden also is a breeding ground for rare butterflies and birds. The garden is open to the public from 10 a.m. to 4 p.m. daily except Wednesday. For more information, call the Key West Botanical Garden Society at 305-296-1504.

Charles "Sonny" McCoy Indigenous Park, a nature lovers' delight named for a former city mayor, is particularly popular with visitors and area school groups. Located across from Rest Beach just past the intersection of White Street and Atlantic Boulevard, this six-acre park features a native hardwood hammock containing a variety of trees and vegetation indigenous to the island. The park is on the "flyway" for migrating birds in the spring and fall, attracting numerous species to rest and feed before they reach open water.

It's also home to a center run by Wildlife Rescue of the Florida Keys that's dedicated to the rescue and rehabilitation of sick and injured Keys birds and wildlife. For more information about Wildlife Rescue, call 305-294-1441.

Gardens also can be found at a number of Key West museums and attractions. For example, the soaring atrium garden at Casa Antigua at 314 Simonton St., Ernest Hemingway's first Key West residence, is extraordinary from both the historical and architectural standpoint. Touring Casa Antigua's atrium provides a view of the foliage, pool and fountain surrounded by the brickwork of the building's unique restoration -- and a glimpse of the rooms where Hemingway stayed while he completed "A Farewell to Arms." Contact Casa Antigua at 305-292-9955.

A self-guided botanical tour is offered on the grounds surrounding the Harry S Truman Little White House, where the former president spent 11 working vacations. The grounds contain both exotic and familiar trees and shrubs, including the native gumbo limbo and mahogany trees. Located at 111 Front St., the Little White House Museum is open from 9 a.m. to 5 p.m. daily. For more information, call 305-294-9911.

The tropical garden at the Heritage House Museum & Robert Frost Cottage, where the poet usually stayed during his winter visits to Key West, was once frequented by Tennessee Williams, Gloria Swanson and other Key West celebrities. The garden features towering exotic trees and plants, bromeliads and the extensive Margaret Lang Orchid Collection. The property is located at 410 Caroline St. and is open from 10 a.m. to 4 p.m. Monday through Saturday. For more information, call 305-296-3573.

Particularly notable is the Audubon House & Tropical Gardens, where it is believed that John James Audubon conceived many drawings for his "Birds of America" folio during an 1832 visit to Key West. Encompassing nearly an acre, the gardens contain a breathtaking variety of tropical foliage and other native plants and exotics. Visitors can stroll along tidy brick paths viewing blossoming orchids, bromeliads, towering trees, an herb garden and an 1840-style plant nursery. Audubon House, at 205 Whitehead St., is open from 9:30 a.m. to 5 p.m. For more information, call 305-294-2116.

Key West is also home to the Key West Butterfly & Nature Conservatory, which incorporates a 5,000-square-foot glass-domed tropical butterfly habitat and tropical garden. Visitors can view 50 to 60 species of living butterflies from all over the world -- sometimes called "flowers of the sky" -- flying freely among more than 3,500 tropical plants and trees. Open from 9 a.m. to 5 p.m. daily, the conservatory is located at 1316 Duval St. For more information, call 305-296-2988.

Those willing to explore may discover the Medicine Garden, created by a local man to inspire peace and healing, or the green space next to the Monroe County Public Library. In addition, nearly every guesthouse and resort has a garden on its grounds where guests can relax, absorbing the tropical beauty of plants and flowers. Key West's picturesque gardens even bloom in art galleries, depicted on canvas by local artists, and available to visitors as an ever-flowering reminder of their island sojourns. It is said that nearly 2/3rds of the island foliage is indigenous to Key West...is that the secret to the lure of this island paradise?