The Key West Film Society has raised the curtain on the Tropic Cinema.
By TripSmarter.Com | March 21, 2013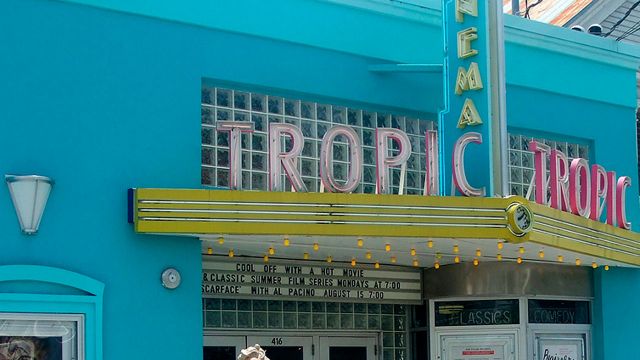 Key West, FL
It isn't surprising that Key West has been the backdrop for many films... everything from Tennessee Williams', "The Rose Tattoo" to the blockbuster James Bond Adventure, "License to Kill".

Now the Key West Film Society, dedicated to showing out-of-mainstream films has raised the curtain on the Tropic Cinema, an 8,000-square-foot film center and multipurpose theater with 35-mm projection systems and Dolby digital surround sound…all located within historic "Old Town," Key West!

The Tropic Cinema boasts three full screening rooms… the largest of which will present independent films and first-run features primarily, but live theater events and musical showcases are also expected. The elevated stage and first-rate dressing room facilities will give Key West its fourth fully equipped theater to showcase the wealth of island talent. The second, somewhat smaller screening room will feature classic and repertory films, with the remaining room dedicated to conferences and seminars…or possibly used as classroom space.

The Tropic Cinema also boasts a roomy 2500 square foot lobby for schmoozing before and after events both large and small…something Key Wester's always manage to do with gusto! Long ago, Key West had an "art cinema" on Duval and its closure was a great loss to locals and visitors alike. No one dared hope for another "art house" cinema in a town where real estate remains at such a premium…but dreams do come true on this magical little island. First, The Key West Symphony Orchestra became a reality and finally, Key West has its own Tropic Cinema! The "arts" are truly alive and flourishing…
Lights! Camera! Action!

For The Tropic Cinema's Weekly Schedule Click Here, for a list of Future Attractions Click Here , or for more information call 305.295.9493.