Harry Truman built his Presidential Winter Home in Key West, FL.
By TripSmarter.Com | March 21, 2013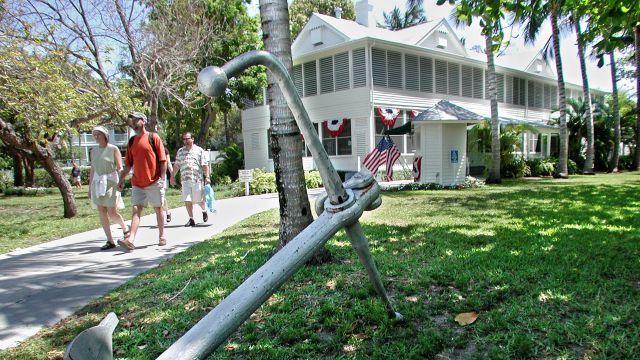 Key West, FL
Harry Truman was not only one of the most remarkable Presidents in American history, he was also a man who loved life - he played the piano, he played poker - he loved to go fishing, and he loved Key West. He built his Presidential Winter home here, in Key West, and his Little White House has welcomed everyone from Thomas Edison and President Dwight D. Eisenhower to President John Kennedy, President Jimmy Carter and most recently, Bill Clinton.

The Truman Annex overlooks the famous Key West Harbor and those famous Key West sunsets...where the Gulf of Mexico meets the Atlantic Ocean, life is at its best. The Winters are warm and glorious -Spring and Fall are idyllic, Summers are filled with long days on the water - fishing, diving and sailing. So, it is ALWAYS a good time to go to Key West...but Summertime is always a little more laid back and a LOT less expensive. It is a great treat to rent a little house or condo in Truman Annex, just steps away from Truman's Little White house and world famous Duval Street and take full advantage of life in the Keys.

Key West is not only America's only Caribbean Island, it is a place rich in history and culture. It is place where people come to live at their own pace...in their own unique style. Most people who live here stroll or ride their bikes every where they go. The restaurants are world class...there is a remarkable theater community and, of course, a few very famous bars. It is a simple life of high quality, high culture and low stress.

The ultimate Key West experience in the ultimate Key West setting is offered by Key West Vacation Rentals and Compass Realty. For more information visit trumanannex.com or call 800-884-RENT.
key west, key, west, florida, fl, truman, fishing, sailing, rental, condo, condo rental, restaurants, bars, truman annex