Lots of new restaurants are opening in Key West.
By | March 21, 2013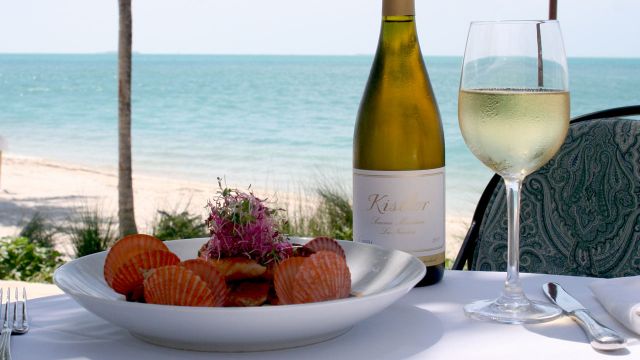 Key West, FL
For the first time in a long time--and I consider this an indication that times are changing for the better, because I need to--new restaurants are opening in Key West. It's great, it's exciting, and it's looking good, because all are in the hands of seasoned professionals, not dreamers.

Two Cents in the old Martin's spot on Apelrouth Lane (next to the Leathermaster, how's that for a Key West locator?) opened this week to an already great reception. That's because it's the co-project of two Chris' well-known and well-loved in town: Chris Otten, formerly of nine one five and presently of, also, Bad Boy Burrito, who has cooked at the James Beard house twice, and Chris Shultz, one of the owners of the popular beer-lovers bar, The Porch. The concept of Two Cents is "urban gastropub" and it includes fried calamari, gruyere puffs, Thai chicken wings and, of course, great IPAs and boutique wines to wash it all deliciously down the gullet.

Coming any day now is the Japanese noodle bar on Southard, in a spot that's been everything under the sun, but recently Dunkin' Donuts and some weird chicken place that failed almost instantly. The noodle bar is by the folks behind The Café, and puts at the helm one of the best chefs ever to cook in Key West, Andrew Berman, who worked for years at Pisces (and when it was Café des Artistes). I am so excited about this place I will slurp my first bowl loudly in appreciation. For those not familiar with a noodle bar, it's choice of broth, noodles, veggies and protein, and it's my ideal, satisfying comfort food.

Making a big smash with as little fanfare as possible (like, there's not even a sign, let alone a website) is Paseo, loosely described as a Caribbean sandwich shop. Very picky people raved to me about this before I tried it, and the reason why is, details like a special sauce that simply rocks the world of whatever it's put on, delicious julienned beets on the basic salad (and an impressive vinaigrette), and clean, delicious food presented in an appetizing way. I ordered fish in red sauce, a variation on curry, and it came on rice with a side of beans and a salad, and a huge portion overall, for $13. Why aren't there more places like this: affordable, delicious. Look for it on Eaton at Grinnell street.

Last but not least in Key West, a place not too new anymore, but still sneaking its way into people's awareness is Garbo's on Greene Street. This is Key West's answer to the food cart phenomenon. It's wacky, full of character, owned by a friendly couple, Eli and Kenna. They turn out great hot dogs with trimmings, fish tacos, and a pork sandwich. Just the right amount, and they can barely keep up with the demand.

I haven't been yet, but there are two places up the Keys I'm set on trying: Kaya at Baypoint, owned by a former manager of Blue Heaven, and Zaza's at the Sugarloaf Lodge, specializing in wood-fired pizza and Italian grilled food. I'm hearing great things, and I'm thrilled that for the new year, there's too much new for me to try!

Happy New Year, and happy dining!