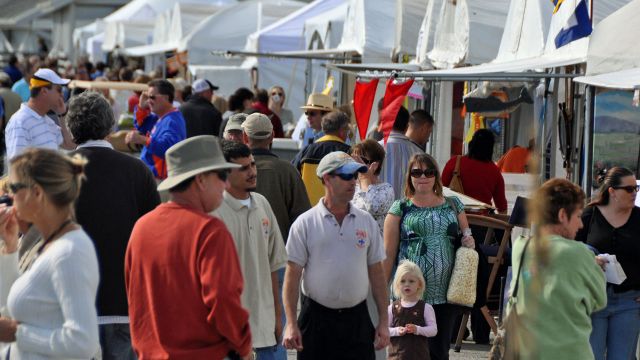 Marathon, FL
What started as a weekend gathering of local artists has grown into a nationally recognized art show. The Annual Pigeon Key Art Festival is set for Saturday and Sunday, Feb. 23-24, 2013 at the Marathon Airport and will run from 10am to 5pm both days. The festival is among the top shows in the U.S. The art festival is a juried show with over 85 locally and nationally selected fine artists and craftsmen in nine different categories..

NEED TO KNOW:

What:

Pigeon Key Art Festival

When:

February 23 - 24, 2013

Live entertainment is scheduled both days, setting the mood for shopping, relaxing and enjoying food and beverages from booths serving local delicacies.

Pigeon Key is a five-acre island located 2.3 miles West of Marathon. It is connected to the mainland by a bridge originally built by Flagler for his Florida East Coast Railway. From 1908 to 1935, Pigeon Key served as a construction and maintenance Base Camp for the railroad. Currently the Pigeon Key Foundation is restoring the historic island, operating a museum, conducting guided tours and providing a center for marine science research and education.

Proceeds from the festival benefits the Pigeon Key Foundation, a nonprofit Florida corporation, in which funds are continuing used for restoration and maintenance of the island. Tickets can be purchased on festival day. For more information, call 305-289-9555 or e-mail reneeshain1@hotmail.com. Visit the Pigeon Key Foundation website at: PigeonKey.net.

To find out about area accommodations, call the Greater Marathon Chamber of Commerce at (305)743-5417 or (800-262-7284.