PrideFest Key West is fast becoming one of the most entertaining events in the island city's calendar.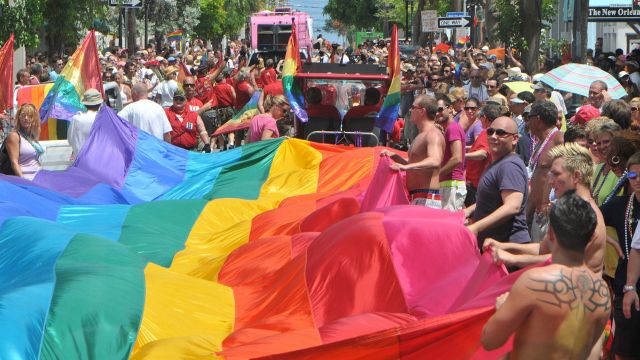 Key West, FL
PrideFest is about the inherent openness and acceptance found in the internationally renowned gay and lesbian resort destination. That inclusiveness will be celebrated during the island city's PrideFest.
Presented by the Key West Business Guild, PrideFest honors gay and lesbian achievements in equality, promotes tolerance and understanding, and provides a fun-filled whirl of revelry for visitors and residents of all sexual orientations. The schedule includes the Pride Follies talent extravaganza; contests to select a Mr., Ms. and Miss PrideFest, parties and a tea dance and a parade down Key West's famous Duval Street.
"At a time not long ago, the social climate against sexual minorities made police raids very common for many of the places gay, lesbian, bisexual and transgendered people gathered. But on June 27, 1969, the patrons of a small New York City bar called The Stonewall Inn fought back in a three day resistance that spilled out on the streets of Greenwich Village marking the birth of the modern gay rights movement. Today, millions of people each year gather to commemorate this historical turning point in hundreds of Pride marches and Pride festivals throughout the world."
"While we fight for our rights to the same dignity and respect that heterosexual members of our society have, we often don't afford basic respects to our own diverse groups. Pridefest Key West was born of a dream to create a sense of community, understanding and tolerance for everyone, Lesbian, Gay, Bisexual, and Transgendered and heterosexual. It is our greatest dream that this event will introduce the diverse members of our culture to each other so that we can cultivate an understanding of all parts of our community."
"The Rainbow Flag is a huge symbol of Lesbian, Gay, Bisexual, and Transgendered Pride. It was designed in 1978 by an artist named Gilbert Baker. There was need of a symbol that could be used year after year in the San Francisco Pride Parade. The colors each stand for some aspect of our community. Red for life, orange for healing, yellow for the sun, green for nature, blue for art and purple for spirit. If we look at the flag, one color is sewn to the next. Each stripe connects to the one below it and forms a whole. It can also symbolize a wall, one composed of the diverse parts of our culture coming together and supporting one another. Taking this representation to heart, we can be the strong wall against the political forces using us as scapegoats and break the tide they have been throwing against us."
"Robert F. Kennedy said, "Each time a man stands up for an ideal, or acts to improve the lot of others, or strikes out against injustice, he sends forth a tiny ripple of hope, and crossing each other from a million different centers of energy and daring, those ripples build a current that can sweep down the mightiest walls of oppression and resistance." That is what we are hoping will be the outcome of our Pride event; growing a great wall of support and greater understanding of the diverse parts that make up our whole so we can reflect this dignity and respect for each other to the people that don't understand."