Video Player
NOTE:
Works on most websites and blogs. Does NOT work with most social networks - use
Video Link
instead. Not compatible with video upload sites (YouTube, Vimeo, etc).
Published by:
TripSmarter.Com
Published date:
July 19, 2013
Total views:
541 total views
Monthly average:
49 views / month
Daily average:
0 views / day
Louie's Backyard Dining Tip - Local News
Margit Bisztray with a Dining Tip for Louie's Backyard in Key West, FL.
Website:
Louiesbackyard.com
Location:
700 Waddell Ave
Key West, FL 33040
Phone:
(305) 294-1061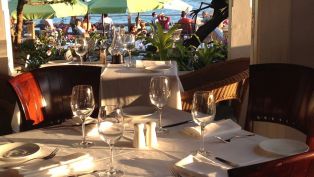 Louie's Backyard is, without question, the most famous restaurant in Key West, with good reason. Famous throughout the world as the 'quintessential' caribbean experience, Louie's is situated in a historic old 'conch' home, right on the Atlantic Ocean. Lovely. Delicious. Unforgettable.
Listing Management:
Update Listing