Video Player
NOTE:
Works on most websites and blogs. Does NOT work with most social networks - use
Video Link
instead. Not compatible with video upload sites (YouTube, Vimeo, etc).
Published by:
TripSmarter.Com
Published date:
July 21, 2014
Total views:
143 total views
Monthly average:
14 views / month
Daily average:
0 views / day
Aqua Nightclub
Key West has a wild reputation for being fun, carefree and anything goes. On an island full of so much to do, why not visit a spot where you can do it all?

Located in the "heart of Duval" street, Aqua, is THE place to go to drink with new friends, catch first rate entertainment and dance the night away.

It won't take long to realize that happy hour isn't just an event, it's an institution and Aqua offers the best, with bars inside and out and events scheduled almost every day.

The sun may set, but the party goes on... if you haven't seen a drag show, you haven't been to Key West. Aqua offers world class entertainment 7 nights a week with "Reality is a Drag" where the world famous Aquanettes dance, and in some cases, bend over backwards, to leave you wanting more on any given night, Reba, Cher or Celine may grace the stage to titillate and amaze.

Aqua is the place to be for any occasion, brides to be, bachelorette parties, nothing says party like a trip to Aqua... you bring the crowd, we'll "Drag out the fun".

reservations are available, but not required so talk to your concierge for showtimes or simply stop by the club... shows are smoke free, but the dance floor catches fire afterwards when the best DJ's on the island spin the hottest tunes.

Come and see what locals, regular island visitors and TripAdvisor have been saying for years, Aqua Nightclub is THE Place to see and be seen in Key West, after all, life is too short to dance to slow music.
Website:
Aquakeywest.com
Location:
711 Duval St
Key West, FL 33040
Phone:
(305) 294-0555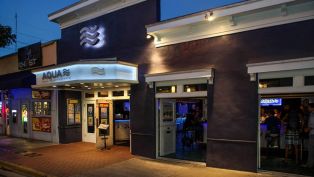 Drag shows, karaoke, live entertainment and late-night dancing.
Listing Management:
Update Listing