Video Player
NOTE:
Works on most websites and blogs. Does NOT work with most social networks - use
Video Link
instead. Not compatible with video upload sites (YouTube, Vimeo, etc).
Published by:
TripSmarter.Com
Published date:
March 17, 2014
Total views:
323 total views
Monthly average:
32 views / month
Daily average:
0 views / day
Latitudes on Sunset Key - Dining Tip
Margit Bisztray with a Dining Tip for Latitudes in Sunset Key, FL. The exclusive island location of Sunset Key's Latitudes restaurant is one that chefs dream of, and Executive Chef Todd Holender takes full advantage of his tropical surroundings. Chef Todd, as he's known, works his culinary magic in Latitudes' Hemingway Room, where photos of author, avid fisherman and former Key West resident Ernest Hemingway adorn the walls, lending a nautical air to the restaurant. Guests can also choose to dine alfresco on the adjacent patio overlooking the Gulf of Mexico or under the stars at romantic tables set on the beach and illuminated by tiki torches.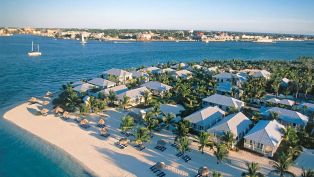 Sunset Key is a 27-acre luxury island consisting of a Resort and Residential Community. Located just 500 yards from historic "Old Town" Key West, Sunset Key is accessible only by 24-hour daily launch service from The Westin Key West Resort & Marina. The launch ride is only about ten minutes each way. Once the launch arrives at Sunset Key, you will be transformed to another world with colorful tropical blooms of bougainvillea, hibiscus and frangi pani. Your cares will slip away once you take in your first deep breath of fresh ocean air and your eyes feast on views of the Gulf of Mexico and the horizon.
Listing Management:
Update Listing