The Grand Strand is home to so many delicious breakfast options... check out this list for some of my favorites!
By Marvin Colley - Beach TV | April 14, 2014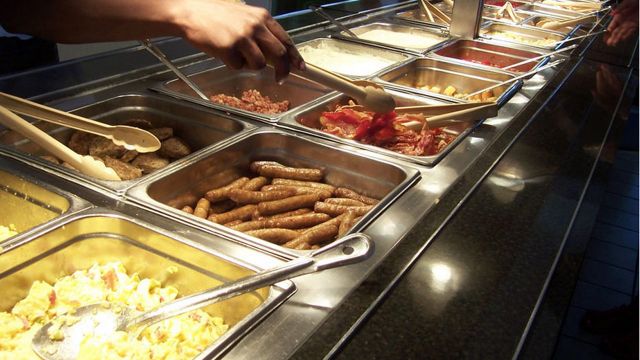 Myrtle Beach, SC
The Grand Strand is home to so many delicious breakfast options... check out this list for some of my favorites!

Sea Captain's House
This is breakfast with one of the best views in the area. The Sea Captain's House is located right next to the beach and has great views of the ocean. Start your day with an ocean view and your choice of Omelets, Pancakes, Waffles or Crab Cake Benedicts.

Croissants Bistro and Bakery
Do you like fresh baked good with your coffee? This is a great place to have breakfast at one of the best bakeries in town. They have all your breakfast favorites but don't forget to try a croissant or a freshly baked muffin.

Mammy's Kitchen
If you are an all you can eat breakfast buffet kind of person this is the place for you. They have been serving locals and visitors southern cooking and homestyle food since 1953. The waffles and the country ham are my favorites

Dino's and Plantation Pancake House (located across the street from each other)
Are you ready for a hug? Well you are going to get one when you visit these restaurants. They are all about treating you like a family that is why people come back year after year. They also have really good food.

House of Blues
Do you need some music with your breakfast to get you going? Well you have to check the Gospel Brunch on Sundays at the House of Blues. Make sure to check out the Bloody Mary Bar.

Uncle John's Family Restaurant
Uncle John's is very comfortable place have breakfast. It is the kind of place you will see people just hanging out reading the paper. They like for you to feel at home. While you are relaxing try and eggs benedict or a Fried Chicken Deluxe sandwich.

Hot Stacks
Have you ever eaten somewhere that is takes you a couple of minutes to go through all the menu options? Well Hot Stacks is that kind of place. They have a huge variety from their famous pancakes to more healthy options. They even have a menu just for endurance athletes.

Bagel Factory
The name says it all. This is the place you go if you want a freshly made bagel with your breakfast. They have lots of bagel options. You should have no problem finding the right bagel to go with your breakfast.

BisQit
My mouth is watering thinking about BisQit because there is nothing like a big hot fluffy biscuit covered with butter, jam, honey or pimento cheese. Located in the middle of the Hammock Shops this is a great place to hang out and get a feel for the Lowcountry.

Magnolia's at 26th
Can't get grandma's cooking while you are on vacation? Don't worry, Magnolia's at 26th has you covered. They have all your country cooking breakfast favorites.