The wide selection of courses and the generally pleasant climate have kept golfers teeing off in Myrtle Beach for decades.
By | March 22, 2013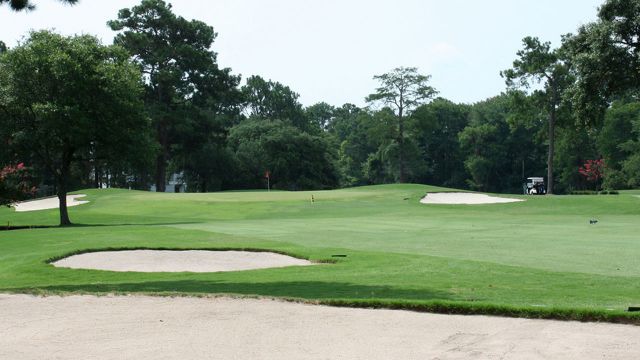 Myrtle Beach, SC
It's no secret that Myrtle Beach is home to some of the most beautiful and challenging golf courses in the country. The wide selection of courses and the generally pleasant climate have kept golfers teeing off here for decades. But with so many options how can you choose which courses should be on your itinerary? Well according to avid golf enthusiasts it is these 5 courses that ranked the highest on their list of "must play courses."

Caledonia Golf & Fish Club
When you arrive at the Caledonia Golf Club the first thing you will notice is the rows of towering live oak trees lining the entrance to the plantation-style clubhouse. You'll feel as if you've been transported back in time to a place full of old southern charm and hospitality. Out on the green you'll get a chance to take in the salt marshes and the nature filled woodlands of this masterpiece course tucked away in the heart of South Carolina's Lowcountry.

The Dunes Golf & Beach Club
Built in 1948 this seaside course is known as the second oldest course on the Strand. This 200+ acre course offers a sprawling array of ocean views, pine forests and salt marshes. The Dunes course is also home to the famous "Waterloo" hole, designed by Robert Trent Jones and incorporating Lake Singleton into the shot. The "Waterloo" hole has won numerous awards and is regarded as one of the most famous golf holes in the world.

Pawley's Plantation
Built by legendary golfer Jack Nicklaus, this course boasts of extraordinary natural beauty and challenging fairways. Golfers will find unique obstacles at every hole that make playing this course different and interesting no matter how many times they've played it before.

The Pearl East & West Courses
Just a short drive from Myrtle Beach to the North Carolina border will put you at these sister courses. Built on a former preserve of wetlands and marshes these courses offer beautiful views of the ocean and beach throughout the 18 holes. Rolling greens and meticulously manicured landscaping make this course a real treat for golfers of all skill levels.

River's Edge
Designed by pro-golfer Arnold Palmer, this award winning course is situated on a combination of lowlands and high arching river bluffs making it one of the most beautiful courses ever created. GOLF Magazine has repeatedly named this course one of "The Best Courses Near You." This course is also unique in that it is one of only two courses in the Myrtle Beach area that uses Paspalum Grass-the same type of grass that is used at the PGA Championship.