Golfing the Grand Strand is a duffer's dream. With over 120 courses and more entertainment options than Orlando, it's on every golfer's must-do list.
By TripSmarter.Com | March 22, 2013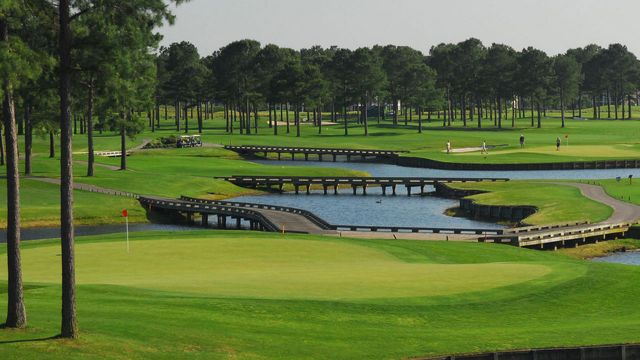 Myrtle Beach, SC
Fall is arguably the single best time to golf Myrtle Beach. The days are still long enough for eighteen holes, cool breezes make getting outside a pleasure, and many of the courses and resorts have fall specials.

This is a town that takes its golfing seriously. How seriously? Myrtle Beach has spent decades becoming the "Golf Capital of the World," and with over 120 courses and climbing, the title seems likely to remain with the Grand Strand for some time.

Once you've decided that a Grand Strand golf vacation is just what you need, you'll want to carefully examine what exactly it is you want from your trip.

If it's golf, golf, and more golf, and the other amenities of a coastal vacation Mecca don't appeal to you, then you might want to consider the North Carolina area of the Strand.

But if you're looking for nightlife and fine dining to go along with your golf game, or you've brought the family and need entertainment for them while you're busy golfing, then your best bet is right in the heart of Myrtle Beach.

You'll find all the amusement opportunities you can imagine- from family fun to adult nightlife- and some of the finest restaurants in the South.

There are great courses near Restaurant Row and the entertainment complexes, so don't hesitate to plunk yourself in the heart of Myrtle Beach's action. It's a great way for the family to enjoy a vacation together, without having to be together too much...

So, what about the courses?.

Let's start with the course who's par-3 3rd hole, with its island green and "SC" shaped sand traps, is the signature hole for Myrtle Beach. King's North at Myrtle Beach National is a course for the serious golfer, whether beginner or seasoned pro.

It's kind of unusual, in that most other Grand Strand golf courses emphasize the scenic splendor of their courses, while at times sacrificing playability in the process. Not so at King's North. The holes here vary in difficulty, from relatively easy to absolutely challenging.

Six sets of tees means that every skill level can play the course, which has several spectacular holes. The emphasis at King's North is playability, though, so the course was laid out with a craftsman's eye. It's bentgrass greens approach perfection.

The par-5 6th hole is known as "the Gambler" after the Kenny Rogers song of the same name. With an island fairway that offers a short-cut to an eagle at the green, "the Gambler" is a make-or-break gutsy call.

King's North was re-designed in 1996 by Arnold Palmer and associate Ed Seay. They went to great trouble, expanding lakes, changing the greens and adding bunkers. And the results are more than worth their efforts. King's North at Myrtle Beach National is a duffer's dream course.

Caledonia Golf and Fish Club, out on Pawley's Island, shares one thing with King's North - an excellent reputation. Other than that, the two courses couldn't be more different.

Gigantic live oaks, dripping with Spanish Moss, line the avenue up to the clubhouse. These ancient giants add a stately elegance to an already refined scene.

The Mike Strantz-designed course was given 4.5 stars by Golf Digest, while Golf Magazine rated it in the top 30 courses in the country that can be played by anyone, and Golf Week listed it among America's 100 Best Modern Courses.

Be forewarned - sitting just behind the par 4, 377-yard 18th hole is Caledonia's magnificent antebellum clubhouse. Here, those golfers who've already finished the course gather around cool beverages and watch as the following groups attempt the 18th. Awareness of the audience adds a entirely new dimension to the game... it's almost like playing in a pro tournament!

In 1990, Golf Digest ranked Tidewater Golf Club & Plantation as the top new public course in America. Created by Ken Tomlinson, a native South Carolinian, it's designed with the traditional Carolina golf courses in mind, taking advantage of the natural environment.

Pine Lake Country Club, known as the 'Granddaddy,' was designed by the first President of the PGA, Robert White, in 1927. The softly rolling landscape and attention to detail are White hallmarks. And for you trivia buffs, Sports Illustrated was conceived at Pine Lake Country Club.

Whatever your game or strengths- or weaknesses- there's a golf course somewhere along the Grand Strand that meets your needs. Keep in mind what it is you want- golf, golf and dining, or golf and entertainment- select your course accordingly, and then enjoy.