Myrtle Beach is a mecca for summer sports and every outdoor activity!
By TripSmarter.Com | March 22, 2013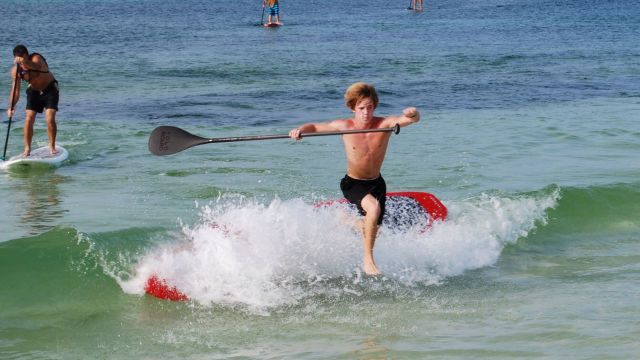 Myrtle Beach, SC
In a city with more than 100 golf courses, summertime is tee time...but if you're not playing golf, you're on the beach enjoying the surf and sand...or floating away in the ocean...it all amounts to HOT FUN in the summertime! Volleyball on the beach...tennis, badminton and baseball...if it's outside, it's cool and that's where everybody wants to be-outside...biking, skating, swimming, surfing and skimboarding...Myrtle Beach is a mecca for summer sports and every outdoor activity!

The Grand Strand is alive this time of year as people pour into Myrtle Beach from every direction ready for a little action at Ripley's Believe it or Not... or Alligator Adventure...the gators are their meenest and greenest this time of year! Live theater is always on the agenda, too, and it's no wonder with top-notch stars performing at the Palace Theater, Legends in Concert and Alabama Theater just to name a few!

When you get hungry, there are literally hundreds of locally owned and operated seafood restaurants to choose from...and if you're serious about your seafood, you might want to take a special trip to Calabash and find out why a "Calabash" has been the best thing on the menu since 1930 or so! Daytrips back in history are only minutes away and summertime in Georgetown and Conway is downright perfect. At night, hundreds of nightclubs and bars open their doors... including under 21 dance clubs where you can dance and listen to both live and recorded music.

The possibilities are endless and everything is in season now, including the sweet South Carolina corn on the cobb...perfect for that summertime crab roast! It just wouldn't be summer without a handful of tender crabmeat and a well-buttered ear of corn. That's how they do it on South Carolina's most famous beach but summer doesn't really kick in until you've finished that first piece of juicy watermelon...outside where the mess don't matter! Sounds good anytime, but summer is the right time and that's happenin' right now! So get outside and have a heaping helping of that South Carolina HOT FUN!

As you can see there is something for everyone, for all ages, and from any country!
myrtle beach, myrtle, beach, south, carolina, sc, south carolina, golf, volleyball, surf, tennis, sports, grand strand, restaurants, clubs, bars, seafood