…the best place at the beach to have seafood? Murrells Inlet!
By TripSmarter.Com | March 22, 2013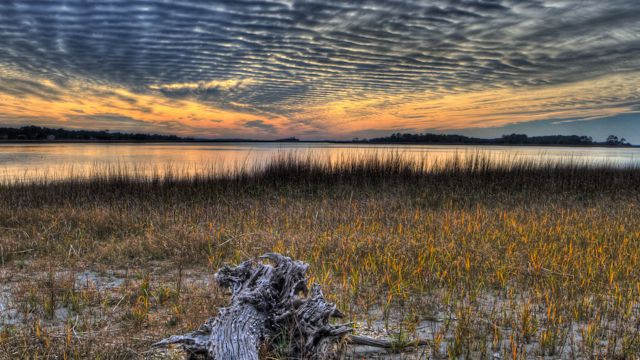 Myrtle Beach, SC
I grew up in Ohio and every year, like most traditional families, we would take our summer vacation to Myrtle Beach, SC. As part of our preparation, our family would discuss and plan an itinerary for eating. On the top of the list we would always choose an old fishing town as our destination for an evening… the best place at the beach to have seafood? Murrells Inlet!

The main thing I remember from my youth was that Murrells Inlet was a short drive from central Myrtle Beach and that my parents loved it because it was unique and quaint in character. Our restaurant of choice in Murrells Inlet would always be the infamous Drunken Jacks! I can remember every year preparing for this evening adventure; like most vacationers to the Myrtle Beach area, we always knew that no matter what time we arrived, we would have a very long wait for our table. As a young person, this was usually not the most pleasant thing. Now, as an adult the waiting time seems to fly by (as long as I have a nice glass of wine in hand!) But, as a kid, I can remember the relief when, at last, our name would be called or our pager would light up! We were instantaneously happy and always excited! The basket of hushpuppies and sweet honey butter arrived the moment we were seated, and always tamed us down! Looking back, I guess they knew what they were doing.

Now, I have grown up and I live year 'round in Myrtle Beach, but I still look forward to visiting Murrells Inlet. The inlet hasn't changed too much…some new restaurants, shops and, of course, the wonderful Marsh Walk than meanders along the coastline behind the restaurants. The scenery is absolutely gorgeous. The Marsh Walk offers spectacular views of the saltwater marsh, wildlife, birds and there are always a few folks strolling along with big smiles on their faces… it's impossible not to feel good there - so many great things to fill your senses!

With the tangy aroma of saltwater in the air and music filtering down from all the little clubs and outdoor band stands… happy people milling about and so much great food waiting to be enjoyed. You can take your pager with you… and while you wait for your table, you can explore the marsh and listen to live bands or catch the boats coming in from a day of fishing or scuba diving.

So, take my advice - if you catch yourself venturing down to Murrells Inlet, pick a great restaurant with a long wait, get a pager in your hand … find a bench along the Marsh Walk… and take a moment to breathe in the fresh salt air!