Myrtle Beach has become THE entertainment center of the East.
By Garth Bandell - Destination Network | March 22, 2013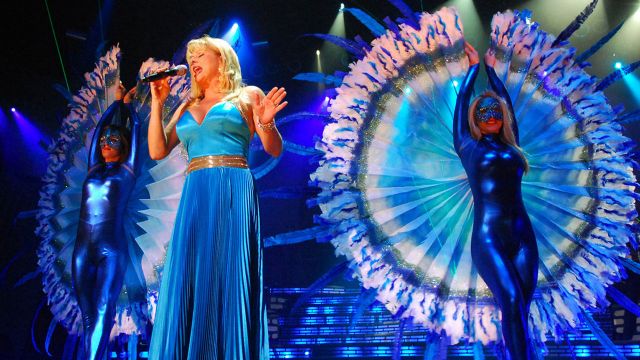 Myrtle Beach, SC
Myrtle Beach is not just the beach anymore... even the fabulous shag palaces with their beach music and shag dancing are only a small part of the Myrtle Beach of today! While other resorts continue to rest on their laurels, Myrtle Beach has never been satisfied with just being one of the Top 10 beaches in the country and in what seems faster than the roller coaster at Family Kingdom, this fascinating realm of the eastern coast has become THE entertainment center of the East, or as some like to say... "the Branson of the South!" The new moniker is well served by the addition of several live musical theaters featuring variety shows, country music and dance. It's family entertainment at its best and no one gets bored with the unusually wide variety of celebrity artists that find their way to one or more of Myrtle Beach's many faceted theaters. The list is long and only Myrtle Beach has the braggin' rights for the Alabama Theatre, the Palace Theatre, House of Blues, Carolina Opry, Dixie Stampede, Legends in Concert, Fantasy Harbor and Broadway at the Beach... they ALL call Myrtle Beach home and with entertainment like this... summer at the beach will never be the same!

In addition to the many outstanding theaters, visitors and locals alike are treated to a myriad of water parks, miniature golf courses, amusement parks and attractions such as "Ghosts and Legends" in Barefoot Landing or "Alligator Adventure," one of the largest attractions for reptile life in the world! The Grand Strand also boasts fishing piers and fishing fleets for charter but as the sun sets and night falls, those in the know head to 2001 Nightclub, a mecca for nighttime fun and a big part of the Myrtle Beach nightlife for many years... quite simply, "it's HOT and it ALL happens there!" Under 21? Don't despair, the beach has plenty of under 21 dance clubs where you can dance and listen to both live and recorded music. Of course, the Shag remains South Carolina's state dance but it would be wrong to think it's the ONLY dance in town; nevertheless, thousands of people visit Myrtle Beach each year, young and old alike to enjoy the Beach Music made famous by the shag... or was the shag made famous by the music?

Well, that's a good question to ponder when you tire of shopping... but first things first! You can literally shop till you drop in Myrtle Beach (though few do) with giant shopping malls like Myrtle Square Mall, Inlet Square Mall and Colonial Mall making shopping easier than ever before! But good shoppers and bargain hunters never forget about Tanger Outlet Center or the ever-popular QVC Outlet Store. Plus, this is the only place where you can find those ultra-quaint shops shaded by live oaks in what would have to be called a spectacular low country setting. Look for a wide variety of antique, craft and beachwear shops, plus the award winning Barefoot Landing where you can take a ride on a Riverboat along the Intracoastal. As if that weren't enough, the exciting Broadway at the Beach not only features some serious shopping but high-caliber entertainment as well. Can you say, "Yes, I'll take that... and two tickets for the show, too!"

Shopping for a home in Myrtle Beach is pretty exciting, too, and this area has long been thought of as an ideal destination for those seeking a second (vacation) home or a retirement home. From luxury oceanfront villas and condominiums...beach cottages...and private-gated golf communities ... to affordable family homes ... and seasonal vacation rentals, Myrtle Beach turns out to be just the ticket because of its mild weather, recreational amenities, shopping and cultural activities not to mention the wide and colorful selection of homes and condominiums that are available now. Like just about everything else here, Myrtle Beach real estate has something for everyone and there's never been a better time for buyers-yes, it's a buyer's market!

If it's just a room you want, there's no need to worry with nearly 60,000 units available... once again there's something for everyone and something for every budget. If you're looking for luxury, there are a number of extravagant resorts with a wide variety of amenities. Or perhaps you're looking to step right out of your room and onto the South Carolina beach... naturally, there are literally thousands of Oceanfront condominiums, beach houses or hotels/motels with beachfront access. And don't be surprised when that much desired beachfront access is also available for the budget minded visitor, too. You'll even find all kinds of flexible golf packages with an on-site "golf director" to assist with the planning of your golfing vacation at the beach.

Myrtle Beach golf got its start at the Pine Lakes International Country Club in 1927. The sport has grown at a mind-boggling rate and today, nearly 100 golf courses see both amateurs and professionals teeing off every day... and believe it or not, there are more on the way! The natural beauty and sandy soil of Myrtle Beach has allowed for the creation of technically challenging golf courses, while protecting the natural habitat and wildlife indigenous to the area. Still, every consideration is given to the game of golf and the great masters of golf course design... Robert Trent Jones, Arnold Palmer, Jack Nicklaus, Tom Fazio and many others have left their mark on the Myrtle Beach area, now widely known as the World's Golf destination?

Though many visitors to Myrtle Beach are into Golf, Beach Volleyball or many other outdoor sports, most everyone likes to eat... morning, noon and nighttime, too! Even the most discriminating palates will find something that "hits the spot!" Whether it's the staggering array of fast food... upscale restaurants serving the finest cuisine...or the "Low Country" specialties consumed by everyone, no one goes hungry in Myrtle Beach! In fact, the Myrtle Beach area boasts over 1800 restaurants from all over the world... and you won't have to go far for that famous, "fresh Calabash Seafood."

What's a Calabash, you say? Well, literally it's a great time had by everyone and well worth the short drive from Myrtle Beach. Calabash is a quaint waterfront town located on the Calabash River, the Intracoastal Waterway and the Atlantic Ocean. Oak tree lined avenues make up most of Calabash but the town is crazy for seafood... and it's been that way ever since fishing began. The comings and goings of all the different boats along the Riverfront enjoy a rhythm that makes Calabash... Calabash! For as long as anyone can remember, no day in Calabash ever begins without the fleet of fishermen and shrimpers going out to sea with the rising sun. Fresh seafood has always been an integral part of life in this waterfront town...and it always will!

But the legend of the "Calabash" actually began during the 1930's when the day's catch would arrive on shore late in the afternoon. Fishing crews would then gather under the trees to cook their fish in large pots. The aromatic smell eventually lured residents to those same trees and though uninvited were looking for "leftovers" to eat on the spot! From that day forward hungry residents would greet the fishermen as they arrived onshore, eager to witness the day's catch and to buy whatever was "on sale." Well, Go Fish! It wasn't long before an enterprising businessman began serving up tubs of deep fried seafood... dipped in a light, seasoned batter, cooked until golden brown and served piping hot! Quite simply, that was the birth of "Calabash style" seafood... now served in restaurants all along the eastern coast.

OK, if you're hungry now... make a beeline for the Grand Strand and enjoy Myrtle Beach and all it has to offer, including the best calabash seafood on the planet!