The old memories draw us back to the Grand Strand.
By | March 22, 2013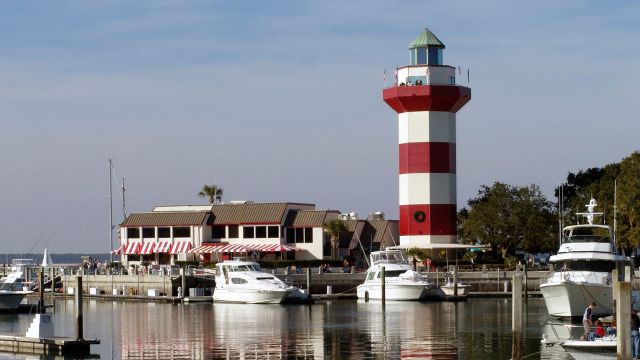 Myrtle Beach, SC
There are a lot of great new things happening on the Grand Strand, but it's the old memories that draw me back. Don't get me wrong, we were just there in June; we stayed at Kingston Plantation in one of the most beautiful, multi-million dollar oceanfront condos on the coast, and it was AWESOME... before work, we ran on the beach in the mornings (great beach for running) or worked out in a state-of-the-art gym; in the evenings, we prowled through an amazing variety of local restaurants and bars... we hung out on the balcony every night watching the sunset with friends - drinking too much good wine and relishing the salty breeze. The service was expert – room service brought iced down beer and chips for our little parties and a few nights when were too tired from work to go out, they delivered and set out full meals in the waterfront dining room. The people at Kingston bent over backwards to make our stay there memorable; they treated us like royalty, and we loved every minute of it! Yes, there's a LOT to be said about modern day Myrtle Beach, but....our first adventures on the shores of South Carolina are etched deeply on our hearts, and we find ourselves travelling back in time every time we go back – revisiting old stomping grounds and reliving old stories.

We founded Beach TV in 1987 - in Panama City Beach, Florida, and it was apparent that it was a hit from the very beginning. A lot younger in those days and enthused by success, we were ambitious and eager to expand Beach TV to other markets. An opportunity arose for use to purchase two TV stations in Myrtle Beach; we finalized the deal in the summer of 1989. We were fortunate enough to spend a few idyllic weeks exploring the coast before Hurricane Hugo struck in mid-September of that same year.

Hugo was devastating, and it was obvious that the area would take years to recover, but those few months of discovery prior to the storm had convinced us that this was a place we would always treasure, and there were so many fascinating stories to tell – we decided to go ahead with the projects we had planned... to establish Visitor Information Television stations in Myrtle Beach, Pawleys Island and, eventually, Hilton Head Island, at the southern tip of the state.

We were watching every penny in those days (OK, we're still watching our pennies!), so my husband and I talked my parents into taking their RV and camping all up and down the coast, from Hilton Head to North Myrtle Beach – we explored Savannah, Beaufort, Charleston, Georgetown, Pawleys Island, Litchfield, Murrells Inlet, Myrtle Beach and Little River. "Google" was still decades away, so we researched South Carolina history the old-fashioned way... at historic sites, in libraries and museums, talking to local historians, long-time residents – curators and park rangers. We walked the beaches, paddled through the salt marshes and toured the old plantations, churches, waterfronts. Over three years, we took notes, wrote our scripts, shot hundreds of hours of footage and joined the incredibly determined folks working together to rebuild the ravaged coastline.

Beach TV of South Carolina switched on the lights in 1992, and we have been enjoyed every minute of it – we have met SO MANY wonderful people and formed lifetime friendships. If you've never explored the South Carolina coast, you owe it to yourself to take a few weeks and immerse yourself in its history and uniquely laid-back self-assured lifestyle. Indulge in all the new and wondrous entertainment venues and high-tech advancements – it's mind boggling, but don't forget that this is not only one of today's most popular vacation destinations, it is an Old Coast with a rich history. Native Americans enjoyed life here for thousands of years before the arrival of the first Europeans in 1526. The Spanish were first to sail into Winyah Bay; by the mid-1600's, the English and French had established outposts here. It was wild country in those days - the rivers served as the only highways and life was not easy, but by 1729, Georgetown was a busy seaport, with a steady flow of imports and exports that created unimaginable wealth and attracted... pirates! The cargo ships were slow and made for easy pickings. It is estimated that over 2,000 pirates flew the "Jolly Roger" off these Carolina shores in those days... among them, Blackbeard, aboard his legendary ship, the Queen Anne's Revenge. The wreckage of Queen Anne's Revenge was discovered in 1996 in Beaufort Inlet – it's a fascinating story, and it's just the tip of the iceberg!

Note: Beach TV is the founding station of the Destination Network, which operates visitor information television stations throughout the Southeast. We are excited about our newest station, The Lowcountry Channel, scheduled to debut in 2012, serving Hilton Head Island, Beaufort and Jasper counties. Stay tuned!