The Grand Strand is also well stocked with nightclubs, discos, sports bars, beach clubs, and other hot spots.
By TripSmarter.Com | March 22, 2013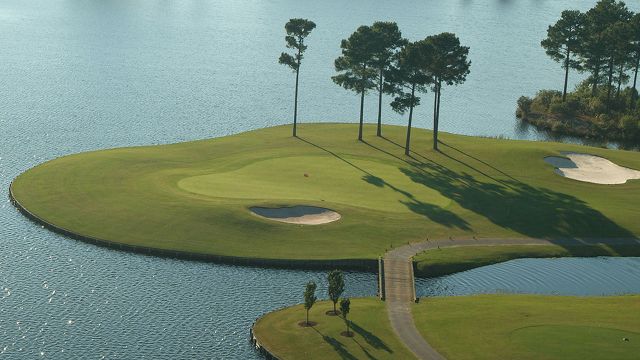 Myrtle Beach, SC
Everything you could hope for in a vacation is waiting for you on the Grand Strand...beautiful beaches, watersports and fishing...scrumptious food, fun-filled amusement parks, unique shopping, lively nightlife, and historic sites. The really tough part is deciding what to do first, or what not to do, and you may think there is no way to do it all. But don't let that stop you from trying because just about everything on your wish list is right here...in Myrtle Beach!

Naturally, the fun always starts (and never ends) at the beach, the Myrtle Beach area's No. 1 attraction. And it's no wonder...with sixty miles of beautiful beaches, the opportunities for "fun in the sun" are never ending. There's also the Intracoastal Waterway, which runs along the entire length of the Grand Strand or the Waccamaw River winding its way past historic plantations and other absolutely gorgeous scenery. Water lovers have their choice of adventures on water salty, briny and fresh...with surf or without. Speed along in a boat...paddle a kayak or canoe...or surf a "big one!"

"Landlubbers" with a taste for adventure might prefer the thrills of an amusement park? How about two big, humongous extra-special amusement parks where you can ride roller coasters, Ferris wheels, merry-go-rounds, and more...while munching on cotton candy, corn dogs, snow cones, and other fun foods! But don't fret... there's always something a little less adventurous for the faint at heart.

For instance, there are a lot of great parks in the Myrtle Beach area...everything from cool water parks to hot racetracks and outdoor sculpture gardens. World-renowned Brookgreen Gardens is just the place for a relaxing, wonder-filled outing. Founded in 1931, Brookgreen Gardens was America's first public sculpture garden. The collection currently contains over 900 works spanning the entire period of American sculpture- from the early 1800s to the present. Its placement in more than 50 acres of beautifully landscaped settings creates an extraordinary blending of art and nature. A Special exhibition will be on display in one of the two indoor sculpture galleries to celebrate African-American History month in 2005. "African Echoes: Influences in American Art" will be open January 29 through February 28 in the Sculpture Pavilion. The exhibit will feature such artists as sculptors Chiam Gross, William Edmondson and Bora Mteki; doll maker Zenobai Washington; basket makers Mary Jackson and Jennifer Broughton; potter Rayvon Davis and gourd artisan Ron Richards.

Myrtle Beach is also known as the Seaside Golf Capital of the world! Nowhere else will you find 115 outstanding golf courses laid out over a spectacular Lowcountry landscape. The Myrtle Beach area is home to some of the most unique, challenging, and picturesque golf courses in the world. Here golfers can experience the beauty of oceanfront holes or stand in the midst of giant live oaks draped in Spanish moss on the site of a colonial rice plantation. Course designers have taken great pains to protect the natural habitat and wildlife indigenous to the area while creating courses that are technically challenging and beautiful. Among the architects: Jack Nicklaus, Arnold Palmer, Robert Trent Jones, Davis Love III, Tom Fazio, Greg Norman, Gary Player, and Pete and P.B. Dye. Best of all, the majority of the Myrtle Beach area's golf courses are open to the public. Many also host professional and amateur tournaments such as the DuPont World Amateur Handicap Championship where more than 5,000 golfers play on over 70 different courses.

In 2002, the Myrtle Beach area was designated "Golf Destination of the Year" by the International Association of Golf Tour Operators, winning out over hotspots such as Palm Springs, Hilton Head, Northeast Florida, Scotland, Ireland, and previous winners such as Algarve, Portugal. The destinations were rated on customer satisfaction, quality of courses and accommodations, and access to tee times, among other criteria. Of course if "putt-putt" is your game, there are nearly 50 miniature golf course waiting for you and your family and friends...but no arguing and cheating is definitely NOT allowed!

In the end, it's the diversity of the Grand Strand's entertainment scene that keeps visitors coming back for more. The Carolina Opry paved the way for more theatres, and before long the area was in the midst of a live-entertainment boom. Big name entertainers, including Alabama, the Gatlin Brothers, and Ronnie Millsap, signed on with their own theaters or stints in long-running shows. Dolly Parton opened the Dixie Stampede. Medieval Times Dinner & Tournament came to town, as well as Legends in Concert. An ice-skating arena provided yet another choice in live entertainment. Now, with theaters all over town, the Myrtle Beach area is officially in "show" business.

If you're a true blue shopper, the words that make music to your ears are...Malls, Outlets, Boutiques, Bargain Warehouses and Specialty Shops. They're all right here along the strand...and in abundance! Shopping nirvana! It's especially true if you're vacationing in the area! But here's some well-intentioned advice: Wear comfortable shoes...this just may not be the right time to strap on those sexy summer sandals but do pack a light purse or fanny pack and start early, when you're well-rested and raring to go. And remember...leave non-shoppers behind - they'll find plenty of other fun things to do on the Grand Strand..

How about nearly 1,700 full-service restaurants waiting to serve non-shoppers and shoppers alike? The choices are endless and of course, Myrtle Beach is famous for fabulous, fresh seafood, served up every way under the sun. There's traditional Calabash- or Murrells Inlet-style seafood, with tender morsels battered oh-so-lightly and deep-fried to perfection...or order yours grilled, broiled, or blackened and topped with a delicate sauce. No matter which way you like it...you'll find it (and plenty of it)!

The Grand Strand is also well stocked with nightclubs, discos, sports bars, beach clubs, and other hot spots. It's tough to say where to start but the best advice is to match your mood. Feel like dancing? The area has a wealth of dance clubs, where you can shag, disco dance, swing, two-step, or do whatever moves you and your partner. Sports fans will feel right at home in a local sports bar, sipping an ice-cold brew while the game of choice is played out on a big-screen TV. Like live music? It's everywhere, in every style imaginable - pop, rock, country, blues, R&B, instrumental, and more.

If you happen to be out dancing alllll night long and the sky begins to brighten...head back to the beach again for one of the best sunrises on earth. It's an awesome way to start the day.at the Beach! Remember? The fun always starts (and never ends) at the beach! Right on!