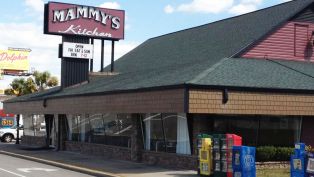 Since 1953, Mammy's Kitchen has served the very best breakfast on the Grand Strand. Our southern style breakfast buffet includes perfectly prepared eggs, French toast, bacon, hash browns, biscuits and gravy, fresh fruit and more. You can also order directly from the menu, if you'd prefer. In addition, Mammy's offers a daily lunch menu with salads, sandwiches, and burgers.

Food Type:
American
Meal Served:
Breakfast
,
Breakfast Buffet
,
Dinner
,
Dinner Buffet
,
Lunch
,
Lunch Buffet
Reservations:
Not Required
Listing Management:
Update Business Details
MOST POPULAR
Articles
Videos
Directory
Website:
Mammyskitchen.com
Location:
1010 N Kings Hwy
Myrtle Beach, SC 29577
Phone:
(843) 448-7242
VIDEOS

No Reviews have been posted yet. Be the first!
YELP Reviews Coming Soon!
Google Reviews Coming Soon!