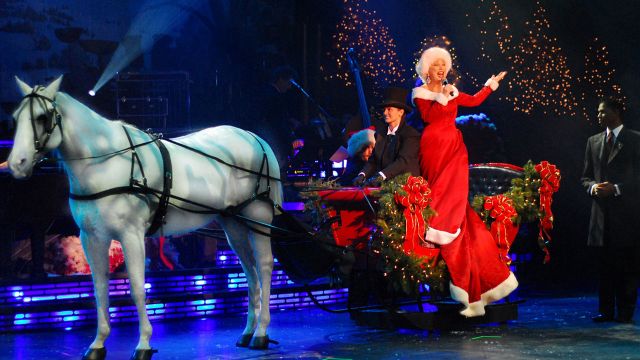 Myrtle Beach, SC
Every year since 1986, thousands of visitors have made the trip to Myrtle Beach, by car and by motorcoach, to see the fabulous Carolina Opry Christmas Special. In the words of one patron: "It makes me feel good. The holidays are so busy, but this is something special that my family takes time to enjoy together."

NEED TO KNOW:

What:

The Carolina Opry Christmas Special

When:

November 1, 2012 - January 5, 2013

Where:

The Carolina Opry
8901-A Business 17 North
Myrtle Beach, SC 29572

In the fall of 1986, Calvin Gilmore was just completing his first season of shows on the Grand Strand. While The Carolina Opry had enjoyed an amazing and immediate success in its original location in Surfside Beach, Gilmore had cautiously planned only one weekend of Christmas performances. Five shows were scheduled for three days. When by mid-November those shows were sold out, Gilmore added a second weekend of five shows.

When those were gone, he added the weekdays between the weekends. Every performance sold out. The rest, as they say, is history. The Carolina Opry has remained the most attended Christmas Special in the South.

The Carolina Opry Christmas Special offers an unparalleled celebration of America's most loved holiday, a heart-warming, funny, and dazzling family tradition that just gets better and better.

While The Carolina Opry breaks new ground each Christmas, there are some things that audiences count on enjoying year after year. Among these is Gilmore's "Beautiful Star of Bethlehem," which has been a fixture in the show since 1986, and "The Twelve Days of Christmas", a full-cast free-for-all which features Bogie acting out all the parts for twelve consecutive verses. And never to be forgotten is the emotional impact of the show's finale: Rita Gumm performing "He's Alive."

Featured on NBC and in USA Today. It's music, it's laughter, it's dance -- it's Christmas! Fabulous costuming and dazzling lighting.

The show runs all through November and December. For exact days of the show visit TheCarolinaOpry.com For ticket information call 1-800-843-6779.