Join Thousands that annually kick off the Holiday Season with the Dickens Christmas Show and Festivals.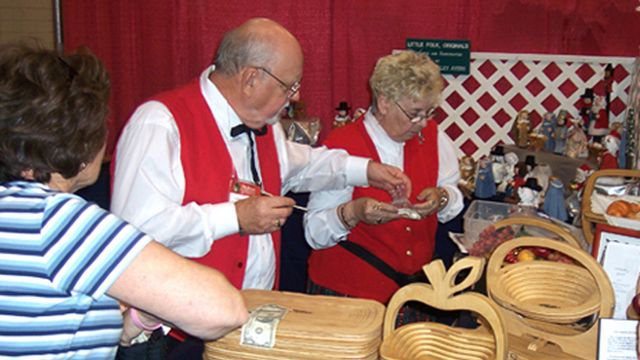 Myrtle Beach, SC
In Myrtle Beach, Christmas comes a little ahead of schedule. Santa Claus arrives on Thursday, the twelfth of November, at nine o'clock in the morning, just in time for The 36th Annual Dickens Show and Festivals.
NEED TO KNOW:
What:
Dickens Christmas Show & Festivals
When:
November 9 - 12, 2017
Where:
Myrtle Beach Convention Center
2101 North Oak Street
Myrtle Beach, SC 29577
For the 36th year in succession, the Myrtle Beach Convention Center will be transformed into a 19th Century London market, complete with Victorian street urchins, 350 hawkers in period costume, a "Punch and Judy" show, meandering choral groups, fifty Christmas trees, and too much more to mention in one breath.
Lasting four days, The Dickens Show is expected draw in the neighborhood of twenty thousand visitors, off a bit due to the economy. True Dickens devotees are likely to be undaunted. Visitors come from as far away as Canada, scheduling yearly vacations to coincide with the show. Many travelers from around the Southeast do likewise. The event has become a tradition.
Amid endless arts, crafts, imported rarities and elaborate displays of English holiday décor, the spirit of Christmas past and present comes alive at the Dickens Show. Inspired by "A Christmas Carol" and the imagination of Charles Dickens, the annual yuletide extravaganza brings out the Santa Claus in die-hard Scrooges. The décor alone will transport you, via sleigh and flying reindeer, to Victorian England and around the world.
You'll stroll snow-laden streets, exploring a 100,000 square feet of Christmas cheer. Wander amid a vast array of period clad vendors, hawking gifts of sweet grass baskets and table art, handmade blankets, quilts, embroidered baby items, handmade candles, personalized Christmas ornaments, silver and beaten metal jewelry, hand rolled cigars, crocheted scarves, hats, pet novelties, fairy doors for gardens, Raggedy Anne's, coffee mugs, calendars, books and the authors who wrote them, metal craft, scrapbooks, cards, hair bows, on and much much more!
Santa of course will be on hand, selling souvenir pictures of himself in his English Castle, all proceeds go to the Community Kitchen, to help feed those who might otherwise spend a hungry holiday.
The history of Santa Claus will appear before your eyes: "Santa Through The Ages" the evolution of a legend, will delight and inform both young and old.
"The Festival Worlds" brings holiday foods from Italy, Mexico, Greece, Cypress, and the Philippines. The food is delicious and all proceeds go to charity directly bettering our community. The "Festival of Trees", fifty symbols of mirth, merriment, and good will, decorated in a variety of themes, shimmering, beautifully designed, and sold to benefit the local CASA charity. Likewise "The Festival of Holiday Tables", centerpieces for holiday occasions, sold to support the Waccamaw Animal Rescue Mission. "The Festival of Wreaths" fifty spectacular examples of craft and creativity, offered for sale to benefit the Kiawanis Children's Charities. And the "Victorian Gingerbread House Competition", when culinary architects use "visions of sugar plums" to realize visions of hope for the Autism Advocates Foundation.
And don't forgo the "Victorian Teas". Participants enjoy having their every need attended to by a costumed wait staff serving authentic, delicious English cuisine, enhanced by Victorian holiday music and a one-man show of Charles Dickens, "A Christmas Carol", performed by the phenomenal, Howard Burnham. Grandmothers, mothers, and daughters have made this an annual tradition. Two luncheon seatings and one afternoon tea are scheduled. You should call ahead for reservations. Call toll free: 800-261-5991.
The "Dickens Christmas Show and Festivals Week" has dazzled and entertained tens of thousands of adults and children for decades. The event has won many awards. It is one of best produced, most prolifically attended shows of its kind in the Southeast. The extravaganza is always a good time and a great place to find unique gifts. Make your list and check it twice. Escape to a simpler age, witness the costumed drama, hear the strolling minstrels carol. The stockings are hung by the chimneys with care… The Dickens Christmas Show is coming, YES!… you need to be there!
Visit dickenschristmasshow.com for more information.