Welcome to all Shaggers! The S.O.S. Fall Migration happens every fall, so get your shaggin' shoes on, and dance on down to Myrtle Beach!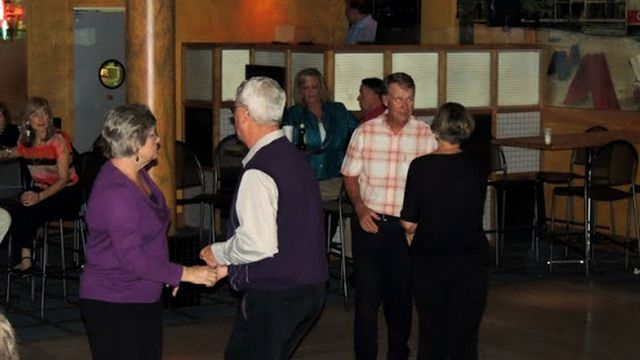 North Myrtle Beach, SC
The Society of Stranders calls its thousands of active members to return to North Myrtle Beach in mid-September for one last big party before winter sets in. Days and nights are filled with activities, shagging and sightseeing. Clubs around the Ocean Drive section pitch in to make sure that every evening resounds with nonstop beach music.
NEED TO KNOW:
What:
S.O.S. Fall Migration
When:
September 15 - 24, 2017
Where:
North Myrtle Beach, SC
If you've never been Shag Dancing, you've missed out on an American original... this dance craze started in Myrtle Beach over 50 years ago, and it's still going strong. Shaggers slip into their special Shaggin' shoes all year long, but the highlight of every calendar is the S.O.S. Fall Migration - a "pilgrimage" to the birthplace of Shag, Myrtle Beach.
What is "Shag" you ask? It's a phenomenal dance craze that started here, in Myrtle Beach, in the 40 and 50's. Local teens invented the dance step that is most suited to Rhythm & Blues music.
But "Shag" is much more than a style of swing dancing, it is a way of life for people from Virginia Beach to Florida!
"Serious shaggers are in a lifestyle, which goes way beyond the dance, it's a camaraderie thing," Phil Sawyer, President Emeritus of S.O.S says. "I've been involved for over fifty years, serious for twenty-five, and I see it all the time... serious bonding between shaggers, they bond and stay bonded... shagging is far more than a dance, it's a lifestyle."
If you don't think these folks take this seriously, think again. "We've had churches call wanting to know when S.O.S is having our Fall Migration, so they don't schedule revivals during that time! And we've had people call about weddings for the same reason," according to S.O.S.'s Mr. Sawyer.
Shag is a 6-count, basic pattern dance with East Coast Swing. There is a rearrangement of the footwork that makes it look and feel unique. All the action occurs below the waist, though instructors tend to teach a very standard basic pattern..
True seasoned "Shaggers" take pride in adopting their own versions of the dance, each being distinctive and smooth. Using the balls of their feet and small steps, "Shaggers" manage to perform this very "cool" style of dance to individual perfection!