Video Player
NOTE:
Works on most websites and blogs. Does NOT work with most social networks - use
Video Link
instead. Not compatible with video upload sites (YouTube, Vimeo, etc).
Published by:
TripSmarter.Com
Published date:
December 3, 2013
Total views:
252 total views
Monthly average:
252 views / month
Daily average:
0 views / day
Dead Dog Saloon - Dining Tip
Francesca Sullivan-Hester with a Dining Tip for Dead Dog Saloon in Myrtle Beach, SC.
Website:
Deaddogsaloon.com
Location:
4079 Hwy 17 Business
Murrells Inlet, SC 29576
Phone:
843-651-0664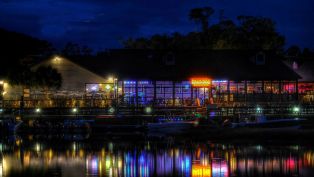 Murrells Inlet's "sassy" restaurant and live music one-stop. With a huge indoor/outdoor deck on the waterfront and plenty of smoke-free dining, this restaurant pleases a wide variety of customers day and night. Located directly on the nearly mile long Marshwalk the Dead Dog Saloon has 3 waterfront bars and seating for nearly 500.
Offering the freshest seafood, a huge appetizer selection, steam pots, tacos, pasta, steaks, BBQ and a great kid's menu, there's something for everyone. Open 7 days a week for lunch and dinner and beginning in March of 2014, Dead Dog Saloon will be offering gourmet breakfast, every morning.
This seafood-and-entertainment-Mecca sits just 20 minutes south of Myrtle Beach on the tidal marshes and creeks that have beckoned seafood lovers for centuries. While not the oldest dog in the pack, The Dead Dog Saloon quickly became the standard for all that a Murrells Inlet restaurant and nightspot could and should be. There's no reason to go anywhere else, doggonit.
Food Type:
Steak
Meal Served:
Appetizers, Dinner, Lunch
Reservations:
Not Required
Listing Management:
Update Listing