Best restaurant, biggest hamburger, scariest cemetery, wildest festival, and more... check out this list of the "best of New Orleans."
By | July 15, 2013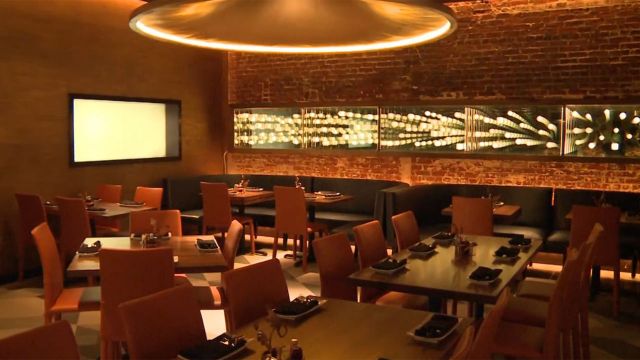 New Orleans, LA
10. Most Beautiful Restaurant!
Well, there are many beautiful (and delicious) restaurants in New Orleans, but one restaurant stands out as the most beautiful of all: SOBU! Drop in sometime and take a look around. It's a stunner, plus you may feel compelled to eat there as well!

9. Best Cocktails!
RUN... don't walk to the Swizzle Stick Bar inside the Loews New Orleans Hotel and adjacent to the hotels "Café Adelaide," both inspired by the Brennan's beloved Aunt Adelaide, who personified the avant-garde cocktail culture of the late 1950's and 60's. Shaved ice, shaken or stirred, you'll find all your favorite cocktails and many more you never knew existed... and that's called the pursuit of the good life in the city that never sleeps!

8. Biggest Hamburger (of course it's delicious, too)!
You could saunter right by "Yo Mamas Bar and Grill" without ever knowing they serve one the most "kick-ass" burgers on the planet... and few ever manage to finish it. In the Big Easy, it's known as Yo Mama's Mega One Pound Burger with baked potato. Now that's BIG! If that's too much for you, the peanut butter burger is the next best thing... really!

7. Scariest Cemetery!
A "mule-drawn" carriage will drop you off at Saint Louis Cemetery No. 1 where Marie Laveau is buried in the Glapion family crypt. New Orleans' most famous Voodoo priestess continues to draw visitors to her tomb where any number of "x's" adorn its side. It is said that the placement of three "x's" on the tomb will grant the marker a wish from Laveau herself. Though many references in popular culture refer to her as a witch, she is more properly described as a Voodoo priestess with magical powers of divination... and then some! Probably best to have the carriage wait for you...

6. Darkest Bar!
Lafitte's Blacksmith Shop is only lit by candles and firelight, so it's perfect for romance although it's also reputedly haunted. Built in 1772, this non-electric bar may spook you but the crowds of Bourbon Street keep most serious ghosts at bay. Still, if all else fails, there's a beer garden and a garden bar outside where there's a little more light.

5. Craziest drink!
The Absinthe Frappe was invented at the Old Absinthe House on the corner of Rue Bourbon and Rue Bienville. For nearly 200 years, the Old Absinthe House has been a way of life in the Vieux Carre. Marble fountains with brass faucets used to drip cool water over sugar cubes and into glasses filled with absinthe now line the bar. Is it any wonder that their motto is "everyone you have ever known or ever will know, eventually ends up at the Old Absinthe House. Must be something in the absinthe?

4. Loudest (and most fun) Karaoke!
The "Cat's Meow" on Bourbon Street claims to be the world's best karaoke bar... and it is! Everyone is treated like a star by the bar's talented emcees and the stage is open to everyone. The bar also features live, mixing DJ's who gallop through a progressive mix of classic rock, disco, dance, hip-hop, swing and top 40 just to name a few! Not to be corny, but it really IS the cat's meow!

3. Oldest antiquities!
No trip to New Orleans would be complete without a visit to one of the premier antique shops in the world, M.S. Rau! All manner of provocative objects, furniture, bright sparkling jewelry and even a few oddities adorn every spot inside this amazing store. Best of all, they treat every customer as if you were a "real big spender" and even seem to enjoy showing off their wares. Hold onto your jaw because the experience is out of this world from yellow diamonds to Louis XIV furniture and everything has a story! No reproductions here and the quality is clear, even to the uneducated. But spending time here is time well-spent and an education in itself!

2. Hugest Bouquet of Roses!
The Windsor Court Hotel may lay claim to being one of the best hotels in New Orleans but one tradition stands out among the many fine things that make this hotel great. No, it's not the priceless art that adorns the walls, or the afternoon high tea that takes place every afternoon, but a not so simple bouquet of roses that has been lighting up the Windsor Court lobby since the day it opened in 1984. No one knows for sure how many long-stem roses make up this dazzling display, but it's certainly more than you've ever seen... even at the best flower shops around the world! Let this HUGE bouquet light up your day and while you're there, you may want to plan your next stay at this "rosey" 4-star (from AAA and Forbes) destination extraordinaire!

1. Wildest Festival!
In a city where "festival" is its middle name, it's difficult but not impossible to choose the wildest one of all. From Jazzfest, to Southern Decadence and the French Quarter Festival, one "big-time" event stands leaps and bounds above them all, and that's the one and only Mardi Gras! There's nothing like it and people come from all over the world to enjoy the parades, the food and of course... the BEADS! "Throw me some, mister!" No one really knows where the custom of Mardi Gras began, but it's full of history and also enjoys its fair share of "sassiness!" So, plan ahead and make a beeline for New Orleans in Mardi Gras season. It's the wildest party of the year... anywhere on the planet!