Honey Island Swamp stakes claim to the presence of Big Foot.
By TripSmarter.Com | March 26, 2013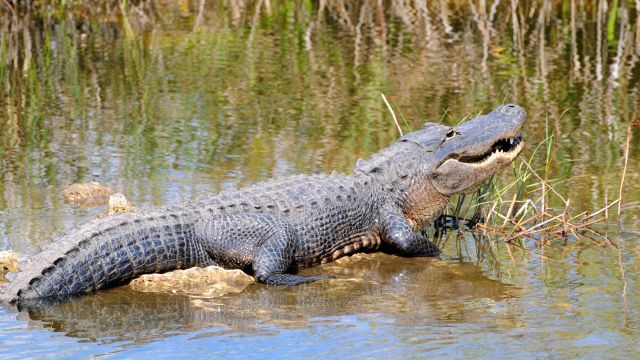 New Orleans, LA
The swamplands of Louisiana are well-known for their primitive beauty and exotic wildlife…picture if you will, moss hanging on gnarled cypress trees rising from the water, the sweet smell of wild azaleas in the air…alligators, black bear, red wolf, deer and BIG FOOT! What?

That's right, real or imagined, Honey Island Swamp stakes claim to the presence of Big Foot, often referred to as The Thing, while others simply call it… Wookie! There is certainly a remote and impenetrable area in the swamp, so if a creature exists, that's where it would be.

Most of the stories, of course, are hearsay, but there is a commercial fisherman who claims to have seen Big Foot first hand. He says it was about 7 feet tall and weighed 300 or 350 pounds, with long, orange-brown hair and big, wide-set eyes. It is reported that when the creature saw the fisherman, he gave a loud shriek and disappeared into the underbrush.

Big Foot or not, Dr. Paul Wagner, a wetlands ecologist, guides personalized narrated nature tours into the 250 square mile Honey Island Swamp. With tales of pirates and sightings of Big Foot in the back of your mind, you might be a little nervous at first…but a journey into this pristine wilderness will have you entranced by its natural beauty and you'll want to go back again and again.

Nearly 70,000 acres of the swamp is a permanently protected wildlife area, the Nature Conservancy's First Louisiana Nature Preserve. You can enjoy some of the richest wildlife stretches of the river and Honey Island…all from the comfort of a tour boat.

Along with the wild life, (there have even been sightings of the Florida cougar) there are many species of exotic birds making their homes in the swamp…an active bald eagle nest has occupied the swamp dating back to 1910!

AND..alligators, alligators alligators! There are about 500,000 alligators in Louisiana and the population is still growing. Dr. Wagner makes certain sounds that attract any gators in the area and almost on cue, alligators glide toward him for their reward…a few marshmallows!

The orange of Louisiana's setting sun, darkened by eerie shadows of cypress trees and fleeting birds, is breathtaking…what looks like a floating stick near a cluster of cypress knees is really a diamondback water snake.

It can get kind of spooky at night and the night tours are a completely different experience. There's a different set of sounds and you don't know what you're hearing…maybe… just maybe, some of those mysterious sounds are from the Thing, Big Foot or Wookie?

Dr. Wagner admits to hearing footsteps while fishing near a canebreak one evening…whatever it was, it sounded BIG. He turned and saw the cane spreading apart and got out of there fast! Maybe it was Wookie but he wasn't about to hang around and find out! There's strength is numbers, however, and maybe the next tour will uncover the mystery of Big Foot for once and for all.

Would you like to be with Dr. Wagner when Big Foot appears? Don't miss an opportunity to tour the Honey Island Swamp with Dr. Wagner…discover its beauty…discover its mystery…maybe even Big Foot! And whatever you do, don't forget your camera… (just in case).