Let's check out some of the dishes that have helped to earn New Orleans its culinary legacy!
By TripSmarter.Com | June 17, 2015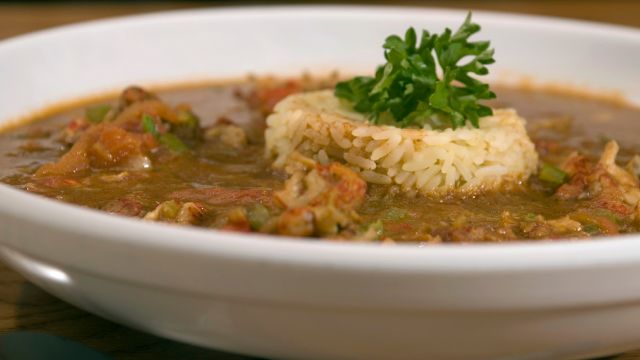 New Orleans doesn't have a reputation as one of the best food cities in the world by accident! It's earned it... one forkful at a time.

From the bustling French Quarter to the picture-perfect Garden District... New Orleans foods blend fancy French Cuisine with traditional local cooking styles to create flavors that are distinctive to the region.

Let's check out some of the dishes that have helped to earn New Orleans its culinary legacy!


Roux
In Louisiana, it all starts with the roux (pronounced "roo"): flour cooked slowly with oil or butter. In time, the roux develops into a light-colored "white" roux or a brownish "dark" roux. Vegetables are added and you eventually have the basic building blocks for a myriad of delicious Cajun dishes. Nothing in Cajun country has a greater aroma than a light brown roux simmering with onions, celery, bell pepper and garlic.


Gumbo
Just about everyone you'll meet in New Orleans has a person recipe for this full-bodied soup or stew. Ingredients vary from cook to cook, but this delicious dish is usually served over rice with some combination of shrimp, crabs, oysters, chicken, or andouille sausage thrown in.


Po'boy
There are as many variations of this classic New Orleans sandwich as their are stories about its origins. Po'boys are served on baguette-style French bread and piled high with meat or fried seafood. When asked if you want your po'boy "dressed", make sure you say yes! Po'boys taste best when served with mayo, lettuce, and tomato!


Red beans and Rice
This cheap meal is always served rich in flavor! Traditionally made with leftover pork from Sunday's dinner... this meal is still featured by local restaurants on Mondays in New Orleans.


Jambalaya
Heart and delicious, this rice-based dish can include just about any combination of chicken, meat, or shellfish... but usually includes ham. The word jambalya (johm-buhlie- uh) is derived from the French word for pork. Once you've settled on a protein, the meaty ingredients are sauteed with onions, pepper, celery and cooked with raw rice.


Muffulettas
New Orleans is home to mufulettas the size of your head! This sandwich, though it's unfair to call it by such a common name, is layered with various selections from the deli... salami, shaved ham, mortadella, provolone... and smeared with the muffuletta's signature spread. A salty olive salad with herbs, garlic, and olive oil.


Snowballs
A snowball is not "shaved ice." It's not a "snowcone". It's a snowball and it's the best way to beat the heat in the Big Easy. Served in a paper cup with a variety of delicious flavored syrups to sample... you can't beat a snowball on a hot day.


Beignets
Beignets are flat squares of flash-fried dough served with a liberal dousing of confectioner's sugar and served scorchingly hot. So much more than a doughnut... these delicious treats are often found served as an appetizer on New Orleans menus.


King cakes
The King Cake is a brioche-style cake traditionally made throughout Louisiana during the Carnival Season prior to Mardi Gras. Also known as Twelfth Night Cake, the King Cake is prepared in New Orleans bakeries for the period between the Twelfth Night and Ash Wednesday.