New Orleans French Quarter is known throughout the world for hedonism, debauchery and good times.
By TripSmarter.Com | March 22, 2013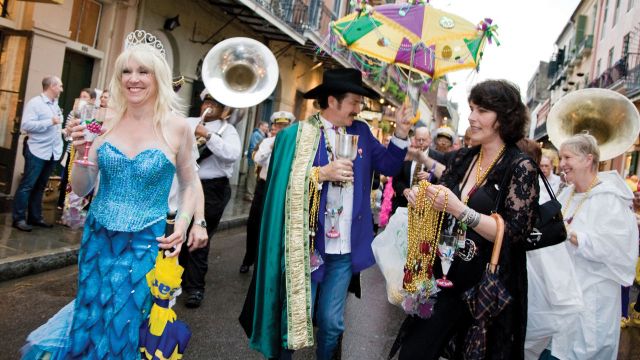 New Orleans, LA
The French Quarter, an exciting 100+ square blocks that has become world famous for its architecture, food, music, and fun, has been called many names...The Old Square... Da Quarters... The Vieux Carre. It is like no other place in the world; its boundaries are North Rampart Avenue to the north, Canal Street to the west, Esplanade Avenue to the east, and the great Mississippi River to the south.

The "Quarter" is the original part of the city, established over 300 years ago, thereby gaining its most popular moniker, The Vieux Carre' (old streets). The rest of the city blossomed out from the French Quarter. Most of the narrow streets are named for saints... and sinners. Its homes and buildings represent an architecture created in the 1700's by the French, who first settled this area.

The oldest building in the Mississippi Valley, the Old Ursuline Convent, was constructed here in 1745. It is open for public tours and offers a fascinating look back in time. Nearby, the Beauregard-Keyes House is also open for tours, offering an opportunity to view the family heirlooms of General Beauregard, as well as the genteel lifestyle of renowned novelist Francis Parkinson Keyes.

But there is more to the French Quarter than meets the eye. If you tune into the sounds of the city, you can't help but take note of the origins of Jazz... with a sax in the background and street dancers groovin' to the beat of a congo. Breathe deeply and take in the scent of fresh garlic and tomatoes, melons and bags of oysters from the Farmer's Market... a whiff of chickory in thick dark coffee... the irresistible aroma of Creole cooking!

To fully experience the culture of the French Quarter, let your imagination run wild in the New Orleans Historic Voodoo Museum. This unique museum houses everything from voodoo dolls to voodoo curses. We've all heard of "Love Potion #9" - they've got that, too. Books, tools for hexing and real live psychics can all be found in this most mysterious museum...skeptics beware. Locals say it's no hex, voodoo is as real as you or I!

Every year, over 250,000 visitors flock to New Orleans for the French Quarter Festival. Locals also flock to the festival to partake in the food, music and history of the French Quarter they have grown to know and love.