New Orleans has much more to offer than just the world's biggest party!
By TripSmarter.Com | March 22, 2013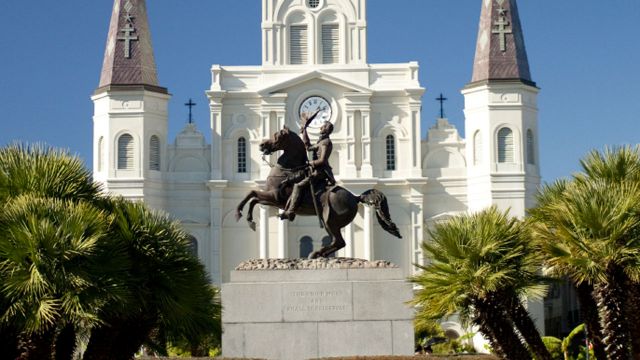 New Orleans, LA
When the city of New Orleans is mentioned, most people immediately think of Mardi Gras… and with good reason! Each year, people take to the streets of New Orleans for a few weeks of chaotic frenzy known as Mardi Gras! Mardi Gras is a celebration of history, tamed and tailored into what has become known as the biggest street party in the world! Sparkling costumes, masked kings and queens, and massive floats decorate the daily street parades and elaborate balls. Many people consider Mardi Gras the highlight of the year in The Big Easy.

But New Orleans has much more to offer than just the world's biggest party! New Orleans is also famous for great food, great music, lively and colorful nightlife and a city so rich in culture, it's been referred to as America's most European city.

World-class restaurants are easy to find in New Orleans! From Commander's Palace and Emeril's to historical Tujague's and Mr. B's Bistro… a five-star dining experience is literally on every street corner! Bon appetit!

The French Quarter is full of unique boutiques and shops. Stores like M.S. Rau Antiques and M. Pelias Antiques carry items that aren't found anywhere else in the world! Famous paintings, hand-carved furniture, and custom-tailored clothing fill store windows in the French Quarter. Shopping in New Orleans truly is an 'old-world' experience… usually found only in the small towns of Europe.

New Orleans' nightlife is considered to be among the best in the world. Bars and clubs line the streets of the Quarter… and they know how to party! Take in some Jazz at Preservation Hall, a national act at The House of Blues, or kick back and relax at Jimmy Buffet's Margaritaville. One thing's for sure… there is something for everyone in New Orleans. The nightlife is as diverse as their culture!

Daytime in New Orleans is just as exciting as the nightlife! Swamp tours and riverboat rides allow visitors to get up close and personal with Cajun culture. Historical tours take visitors to some of the most beautiful districts in New Orleans and show off a side of the city that many are unaware exists. The New Orleans Museum of Art (NOMA) always has an awe-expiring exhibit on display. And the National D-Day Museum is a must-see for any history buff!

If family fun is on the agenda, Audubon Aquarium of the Americas and the Audubon Zoo are mandatory! Considered one of the top five aquariums in the country, Aquarium of the Americas features more than one million gallons of fresh and saltwater exhibits and over 530 species of marine life. Audubon's Zoo is equally impressive, with over 1,500 animals representing 350 species from around the world in one of the premiere zoos in America. Don't forget about the Entergy IMAX Theatre, where larger-than-life adventures explode with the help of the world's most advanced motion picture technology… all on a six-story movie screen! And if the kids still want more, Six Flags New Orleans just might be the answer! Six Flags New Orleans has all the exciting rides one would expect from a Six Flags, including their newest… SpongeBob SquarePants The Ride!

For true sports-lovers, New Orleans provides exciting events year-round. Home of the NFL's New Orleans Saints, the Louisiana Superdome has been host to some of the most exciting grid iron action in history! Mix in a little college football from Tulane University and the annual Sugar Bowl - and there's a game nearly every weekend in the Fall! And if hoops is more your style, the NBA's Hornets take over the New Orleans Arena in October and play through late Spring. Speaking of the Arena… New Orleans' newest sports team – The Voodoo – begin their quest for the Arena Football League championship every January. Go Voodoo!

New Orleans is also famous for it's many special events. From Mardi Gras to the Louisiana Renaissance Festival, there are exciting events happening every month! Jazz Fest and the Essence Music Festival draw nearly as many visitors as Mardi Gras… all with a shared love for great music and good times. Smaller events like the French Quarter Festival and Satchmo Summerfest allow visitors to experience the culture that makes New Orleans so fascinating!

With so much to do in the Big Easy, a daytrip doesn't even begin to scratch the surface of this multi-layered, multi-cultural city. A die-hard fan might spend a week or so seeking out the highs and lows of the French Quarter and then return again… for the rest! So a place to sleep becomes a necessity.

Accommodations in New Orleans are as diverse as everything else in the city. Five-star hotels, like the Ritz-Carlton, New Orleans, provide luxury accommodations and amenities, while quaint Bed & Breakfasts offer a more intimate and simple choice to visitors.

New Orleans truly is a one-of-a-kind city. The Big Easy flourishes with excitement year- round, with something wonderful to offer everyone… no matter what they may be looking for. From its great food, good music, and colorful nightlife, to the special events and rich culture, there's nothing like New Orleans! So get to the Big Easy and make this year's vacation unforgettable! Laissez Bons Temps Rouler!