Learn the history of New Orleans' King Cake and try our delicious recipe!
By TripSmarter.Com | March 26, 2013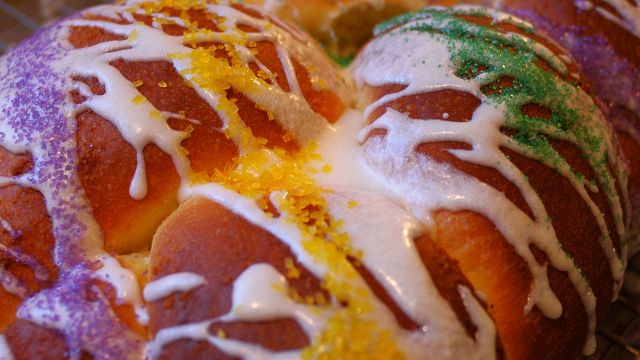 New Orleans, LA
The King Cake is a brioche-style cake traditionally made throughout Louisiana during the Carnival Season prior to Mardi Gras. Also known as Twelfth Night Cake, the King Cake is prepared in New Orleans bakeries for the period between the Twelfth Night and Ash Wednesday. The tradition is thought to have begun with French settlers. Continuing a custom dating back to 12th century France, a similar cake was used to celebrate the coming of the three wise men bearing gifts twelve days after Christmas, calling it the feast of Epiphany, Twelfth Night, or King's Day.

The cakes are now baked in many shapes. Originally they were round to portray the circular route taken by the Kings to confuse King Herod who was trying to follow the wise men so he could kill the Christ child.

The cakes usually contain a bean, pea, or figurine symbolizing the baby Jesus. In 1871 the tradition of choosing the queen of Mardi Gras was determined by who drew the prize in the cake. It is definitely considered good luck to the person who gets the figure, and that person usually holds the next King's Cake party.

The Rex Krewe, a Mardi Gras parade organization, chose the festival's symbolic colors, and since 1872 the colors have been used to tint the cake's icing. The colors are purple (for justice), green (for faith), and gold (for power).

King Cake Recipe:

1/2 cup warm water (110 to 115 degrees)
2 packages of active dry yeast
1/2 cup plus 1 teaspoon sugar
4 cups unsifted flour
1 teaspoon nutmeg
2 teaspoons salt
1 teaspoon lemon zest
1/2 cup warm milk
5 egg yolks
1 stick butter cut in slices and softened, plus 2 tablespoons more
1 egg slightly beaten with a tablespoon of milk
1 teaspoon cinnamon
1 tiny plastic doll (not more than 1")

Directions

Pour the warm water into a small shallow bowl and sprinkle yeast and 2 teaspoons sugar into it. Allow the yeast and sugar to rest for three minutes, and then mix thoroughly. Set bowl in a warm place for 10 minutes until yeast bubbles up. Combine 31/2 cups of flour, remaining sugar, nutmeg and salt and sift into a large mixing bowl.
Stir in lemon zest. Separate center of mixture to form a hole and pour in yeast mixture and milk. Add egg yolks and using a wooden spoon, combine dry ingredients into the yeast/milk mixture. When mixture is smooth, beat in 8 tablespoons butter, 1 tablespoon at a time and continue to beat 2 minutes or until dough can be formed into a medium soft ball.

Place ball of dough on floured surface and knead, gradually adding up to 1 cup more of flour. When dough is no longer sticky, knead 10 minutes more until shiny and elastic.

Using a pastry brush, coat the inside of a large bowl evenly with one tablespoon softened butter. Place dough ball in the bowl and rotate until the entire surface is buttered. Cover bowl with a heavier kitchen towel and allow dough to rise in warm place for about 11/2 hours or until it doubles in volume. Coat a large baking sheet with one tablespoon of butter and set aside. After the first rising, place the dough on a floured surface and punch it down with a heavy blow. Sprinkle cinnamon, then pat and shape the dough in to a long 'snake' or 'cylinder'. Form a twist by folding the right with the completed twist and pinch the ends together. Place the completed ring on the buttered baking sheet, cover it with a towel and allow it to rise for 45 minutes or until it doubles in colume.

After the second rising, brush the top and sides of the cake with the egg and milk wash. Bake in a preheated oven at 375 degrees for 25-35 minutes or until golden brown. Cool on a wire rack and hide the plastic baby in the cake.

Icing

Colored sugar
Green, purple and yellow coloring paste (sold with cake decorating supplies)
12 tablespoons sugar

Divide sugar into three portions (for green, yellow, and purple).
Add a tiny amount of the coloring paste to each sugar portion. Try mixing the sugar and colored pasted between your palms for best results. Set aside.