There are SO many great events in New Orleans!
By Rachel Vella - New Orleans Television | March 22, 2013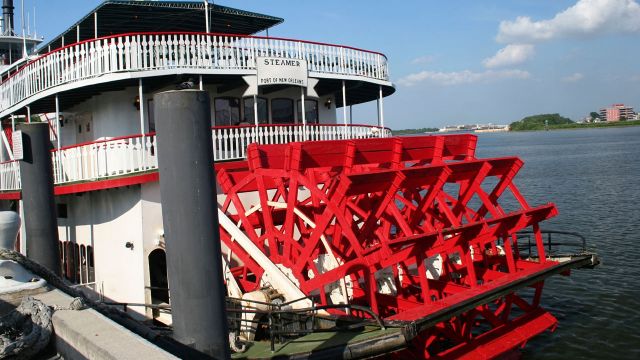 New Orleans, LA
Summer Time, Summer Time, Sum-sum-sum Summer time! It's HERE, and there is always something to do or see in New Orleans! There are SO many great events in New Orleans -- Mardi Gras, Festival Season, Saints Season, Zurich Classic Golf Tournament and other so many more Music Festivals. But what if you are not coming during these amazing events - what can you do in New Orleans year round?

I have made a list of my New Orleans Gems or my favorite things to do, most of the stuff you can do year round, some of the activities are even free!

Historic New Orleans Collection
This organization has wonderful exhibits in it's one of it's three buildings. Their exhibits range from folk art to fine art and always include a tie into New Orleans. Check their website for what is currently showing.

Ride The Ferry
Jump on ferry by Aquarium of Americas... it is free for pedestrians. You will get the best view of Jackson Square, so don't forget your camera.

Esplanade Ave
What an opportunity to visit the only standing house where Edgar Degas once lived! Take the tour and get his history from his great grandniece! While you are in the area I also recommend going to the Museum of Free People of Color. I love the setup, not only a lovely museum, but you get a house tour too!

French Market
No longer just a cool place to get cheap gifts, but a great place for a lunch and live music! They have all kinds of new services, including free tours on the History of New Orleans to children's event and cooking demonstrations. Visit frenchmarket.org for exact dates and locations for all of their great events!

Celebrity Watch!
Now that New Orleans has become Hollywood South, big movies are constantly being filmed here. Currently 9 major motion pictures are being filmed in the city this month. Want to watch a movie being filmed? Check out louisianaentertainment.gov
to find out what is being filmed and where. Don't want to go through all that trouble? Then just do what I do... go shopping at Canal Place Shops, the celebrities love Saks Fifth Ave! In the past few months I have personally seen - or ran into - Sylvester Stallone, Gene Simmons, Nicholas Cage and... not to mention all great musicians walking around! Great shopping at Canal Place Shops and great Celebrity watching!

National WW II Theatre - the Victory Bells!
This is super cool, take a step back in time to an era of musicals! These ladies can sing and dance their hearts out for you, with performances changing quarterly. Plus John Besh restaurant, American Sector is a fun place to eat. Check out nationalww2museum.org for show times.

Free Stuff in New Orleans - REALLY!!
New Orleans has events 365 days a year- think you are coming at a slow time, probably not, check out my friend's blog to let you know all the free stuff going on while you are in town: gratisnola.com.

Some of my other favorite things to do is walk threw the cemeteries, (they are above ground here!) walk and shop Magazine Street, visit Jackson Square walk threw the Cathedral, do an ART walk in one of many neighborhoods... the St. Claude neighborhood is growing! I can go on and on, but that's for the next article.