New Orleans NOW!
The city of New Orleans is now on an unprecedented high.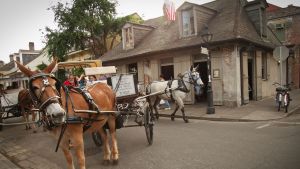 New Orleans
Did you hear the great sigh of relief? The entire city of New Orleans finally exhaled on Ash Wednesday February 17, 2010. After weeks of biting our nails, wearing Black and Gold every day to work and last minute changes to our Mardi Gras costumes to represent our latest success -- SUPER BOWL CHAMPIONS -- the city of New Orleans is ready for you!

The city of New Orleans is now on an unprecedented high. The streets still feel the joy of Tracy Porter running back the football to seal the New Orleans Saints in history. On that same magical day a new Mayor was named: Mitch Landrieu will lead this great city.

What does this mean to you? It means NOW is the time to visit New Orleans! Festival season begins this month and last until 4th of July. We have all kinds of events going on from visiting homes in the Garden District, to Soul fest at the Audubon Zoo, French Quarter Festival, the famous Jazz and Heritage Festival, Oyster's Jubilee, the Road Food Festival, Creole Tomato Festival, Zurich Classic, I can go on and on! Not to even mention St. Patrick's and St. Joseph's Day -- you can get your fill of kisses & pasta! Be sure to check TripSmarter.Com's New Orleans Special Events Calendar for the dates and location of all these events!

Come on down and feel the love, the price is right for a super vacation. I will give you a few tips on picking dates -- if you want to come down for New Orleans Jazz and Heritage Festival look at the first weekend, due to a large convention in town the second week end the city is sold out. Try coming in on Tuesday or Wednesday... the city often has free concerts on Wednesday evenings. Plus on a Tuesday or Wednesday you don't have the long lines for your favorite restaurants.

Visit other hotels -- you might be staying at the Holiday Inn, but go check out the Carousal bar at the Hotel Monteleone or see live music the Ritz Carlton or get the ultimate cocktail at the Swizzle Stick bar in the Loews Hotel. Many of the local museums have free or inexpensive lectures, be sure to see what the Historic New Orleans Collection has going on (www.hnoc.org) or the Southern Food and Beverage Museum (www.southernfood.org). Heck some of the restaurants, like Antoine's is a museum. Go have lunch in the Herme's Bar and ask for tour of the building.

Come to New Orleans and feel the JOY and the LOVE. Bring home the HOPE for even a better year!