I have made a list of my New Orleans Gems or my favorite things to do.
By | March 22, 2013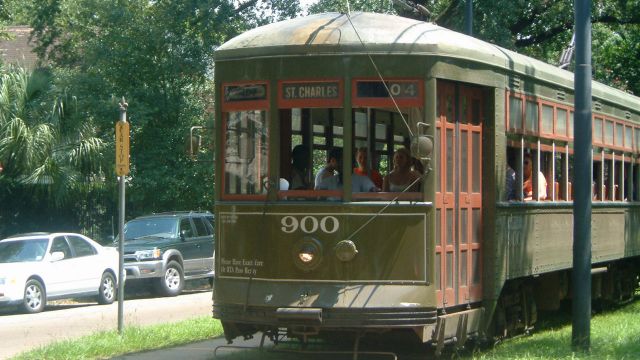 New Orleans, LA
Summer time is here in New Orleans, and the fun never stops, there is always something to do or see in New Orleans! Hello TripSmarter reader, my name is Rachel and for the past few years I have has the privilege to be the General Manager for NOTV. I have also been lucky enough to write a few articles here and there telling you some great things to do for Mardi Gras, Festival Season, Saints Season and other Music Festivals. But what if you are not coming during these amazing events - what can you do in New Orleans year round?

I have made a list of my New Orleans Gems or my favorite things to do, most of the stuff you can do year round, some of the activities are even free!

Historic French Quarter Walking Tour by National Park Services
Every morning at 9:30 am the National Park Services offers a free walking tour of French Quarter. This is a great historically accurate tour of the area. Also visit Jazz Park in the back of Dutch Alley, you can hear some great musicians on Saturdays.

For more information visit nps.gov

Historic New Orleans Collection
This organization has wonderful exhibits in one of it's three buildings. Their exhibits range from folk art to fine art... and always include a tie into New Orleans.

For more information visit hnoc.org

Ride The Ferry
Jump on ferry by Aquarium of Americas - it is free for pedestrians. You will get the best view of Jackson Square, so don't forget your camera.

French Market
Great gifts for everyone, including yourself! Check their website for special events - they often have live music and a great farmers market. If you don't feel like walking to the end of the French Quarter - for only $1.25 you can ride the streetcar along the river.

For more information visit frenchmarket.org

Happy Hour Specials! Great Food at Small Prices!
A rule of thumb in New Orleans is, if it's in the Brennan's family, it's going to be good -- really good! Since the economy hit a few of American hard, Dickie Brennan has ensured that anyone can eat AMAZING food for only $5! At Dickie Brennan's Steakhouse from 5 pm – 7pm at their bar one can choose from great small plates; Prime Cheeseburger Sliders, Prime Filet Mignon Sliders (you get 2 for only $5!!), more of a seafood person, try their Tempura Battered Shrimp or Louisiana Crabmeat Beggars Purse - YUMMY! And the have great cocktail specials, including hand stuffed olives for your martini. Bourbon House and Palace Café also offer $5 after 5 pm, they each have a different menu.

Celebrity Watch!
Now that New Orleans has become Hollywood South, big movies are constantly being filmed here. Currently 7 major motion pictures are being filmed in the city this month. Want to watch a movie being filmed? Check out louisianaentertainment.gov
to find out what is being filmed and where. Don't want to go through all that trouble? Then just do what I do - go shopping at Canal Place Shops, they love Saks Fifth Ave! In the past few months I have personally seen -- or ran into -- Uma Thurman, Angelina Jolie, Ray Loitta, Nicholas Cage and John Malkovich... not to mention all great musicians walking around! Great shopping at Canal Place Shops and great Celebrity watching!

National WWII Theatre - the Victory Bells!
This is super cool, take a step back in time to an era of musicals! These ladies can sing and dance their hearts out for you, with performances changing quarterly. Plus John Besh restaurant, American Sector is a fun place to eat.

Check out nationalww2museum.org for show times.

Free Stuff in New Orleans - REALLY!
New Orleans has events 365 days a year - think you are coming at a slow time, probably not, check out my friend's blog to let you know all the free stuff going on while you are in town.

For more information visit gratisnola.com

Some of my other favorite things to do is walk through the cemeteries, (they are above ground here!) walk and shop Magazine Street, visit Jackson Square – walk through the Cathedral, do an ART walk in one of many neighborhoods. I can go on and on, but that's for the next article.

Check us out on Facebook to see what is happening and get more insider information. So what are you doing just sitting there? Go make your reservations on bookit.com and get on over here!