Storyville is an historic New Orleans neighborhood celebrated in life and legend.
By TripSmarter.Com | March 26, 2013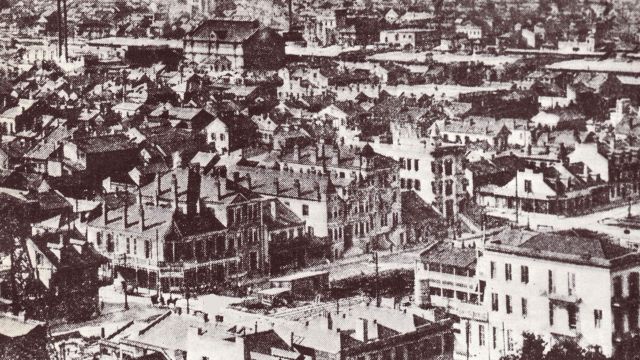 New Orleans, LA
At the turn of the last century, the undisputed center of good times in the Big Easy was literally 'carved out' of the New Orleans landscape by Alderman Sidney "Story." Storyville - as it came to be known, was the city's experimental district for legalized prostitution, and it flourished for 20 years.

Fabulous bordellos were lavishly decorated, and cultural barriers blurred as people of all income levels came together to share their passions… for good times and good music. Racial distinctions were still made, however, with blacks males unable to patronize white bordellos, or black women to work with white.

A unique Storyville tradition began in 1898… the best bordellos each hired a house pianist universally known as "The Professor." "The Professor" would greet visitors and invite the city's most talented musicians to get together and perform for bordello patrons.

Jelly Roll Morton, Tony Jackson, Clarence Williams, King Oliver and Manuel Perez were just a few of the musicians who captivated Storyville audiences nightly with vibrant performances.

Well, as you might have guessed, Storyville didn't endure. The United States entered World War I on April 6, 1917, and the mood in the country grew more puritanical (Prohibition was begun just after the war, in 1919).

The Federal Government closed Storyville down in 1917, and, until recently, the renowned historic attraction was lost forever to New Orleans. Post-Victorian sentiment had overruled experience.

Today, there is a new Storyville district... minus the prostitution, of course!

In 1998, renowned restaurateur Ralph Brennan, Jazz & Heritage Festival Producer/Director Quint Davis, jazz impresario George Wein and famed architect Arthur Davis teamed-up to produce a world-class entertainment venue, the Storyville District entertainment complex, that honors this "noble experiment."

The new Storyville District is literally the gateway to the world famous Bourbon Street. It features a 12,000 square foot complex with many rooms with continuous live entertainment from afternoon to night.

In addtion to the music that made New Orleans famous, the Storyville District has, as you'd expect with Ralph Brennan involved, some of the best food you'll find in the city.

So, Storyville brings together the very best of New Orleans… the best music, the best food, the best address.

Those are just a few of the reasons that Storyville has been named the "Must See - Must Do - Don't Miss" attraction of the French Quarter by Southern Living, National Geographic Traveler, American Way, New Orleans Magazine and the national Restaurant Hospitality magazine.

Storyville District is literally "The Home of Jazz in the Home of Jazz," and Jazz has never tasted so hot!