It is not surprising then that St. Patrick's Day has been celebrated in North America since 1737 and New Orleans certainly no exception.
By | March 22, 2013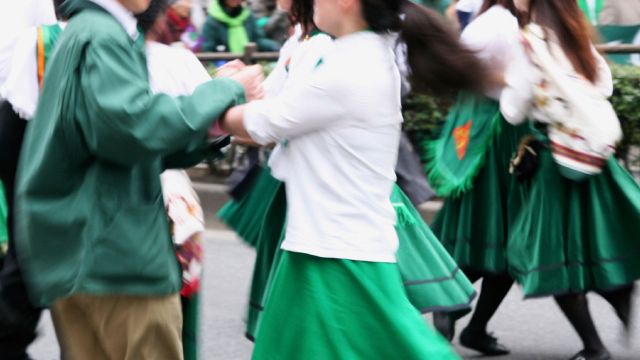 New Orleans, LA
When walking around the French Quarter in New Orleans, it's easy to see that every street and every house has a story to tell. The Spanish hold the honor of erecting the first building here in 1791, but the Native American Indians in Louisiana remember first trading their wares with the French. In fact, it was 1682 when the French explorer, "LaSalle," first raised the standard of France over a vast region of land he named, Louisiana. New Orleans or "La Nouvelle Orleans," as it was originally called would not be founded until 1718. All earlier attempts to name the city were met with severe opposition from these same Native Americans. Today, New Orleans enjoys more names or "nicknames" than any other city in the United States. Some names are frowned upon, others are endearing but they all say one thing... New Orleans is a city enjoyed by many people from all over the world and it means something just a little bit different to each and every one of them. BUT... at the very heart of the "Big Easy," the "Crescent City," "Vieux Carre," N'awlins or whatever you like to call it is it's own special brand of Cajun cuisine and any number of extraordinary chefs that are famous the world over... and music! New Orleans is also called the "Birthplace of Jazz" and home to musicians such as the great Louis Armstrong, Dr. John and Wynton Marsalis just to name a few! In a word... New Orleans is FUN-always has been and always will be, FUN... F-U-N!

Now, back to a little more history and why the Irish are such a big part of this one-of-a-kind City that Care forgot? Well, eventually the French had more pressing concerns back home... a little something called the War with the English and Spain was quick to seize upon the opportunity to step in and claim New Orleans and that vast area of unexplored land west of the Mississippi as their own. The transfer of power is never a simple thing, but in no time the Spanish were making themselves very comfortable and at home in the very city they would soon burn to the ground in the great fire of 1788. Much of the city's Versailles' inspired architecture was destroyed along with some 850 other buildings of note. A lone candle set fire to a window curtain at 538 Chartres Street and the rest as they say, is history... oops!

The Irish are never far from a really good story and every Irishman immigrant was vigilant about bringing each and every one of their most robust celebrations with them. It is not surprising then that St. Patrick's Day has been celebrated in North America since 1737 and New Orleans certainly no exception as the Irish staked their claim here much like the French and Spanish... if ONLY for a few days in March, or March 17th to be exact! Since the very first parade in the French Quarter, crowds would assemble in the streets long before the start of the parade... and all one could see from any distance was a sea of green and more than a fair share of "second-line" umbrellas to protect the fair Irish revelers from the HOT Louisiana sun. And so it goes... a "second-line" umbrella isn't just for Mardi Gras anymore!

New Orleans also enjoys the special distinction of never knowing just what you're going to see on St. Patrick's Day! Many of the determined marchers and spectators alike would bring their dogs to the parade, dressed for the occasion of course and it should come as no surprise that everyone else brought pets, too, of every size and description but GREEN to be sure! Baby green crocodiles anyone? Then just as every New Orleans' parade begins, crowds begin an all too familiar chant, "Hey, Mister, throw me something!" The chant is as much a part of St. Patrick's Day as it is during Mardi Gras and every St. Patrick's Day float is also accompanied by bands, music and various marching clubs that add to the green festivities. St. Patrick's Day has always fallen on March 17th and some dates... THIS one in fact, never change! Those first Irish celebrations in honor of St. Patrick's death were very noisy affairs in Ireland and the Irish immigrants who first landed in America were careful to commit to memory every detail of their celebration for St. Patrick and were in no way going to forget the manner in which they honored their hallowed saint, nor the amount of noise and green beer that was not only deemed appropriate but necessary for such an important party, I mean festival in March. It should be apparent by now that the Ides of March pales in comparison to ANY St. Patrick's Day Parade, but in New Orleans, the bar has been raised even higher. Unfortunately that has failed to deter anyone from consuming too much green beer and whiskey on such an all-important date, never to be forgotten... March 17th! So, to this date there have been no accounts where St. Patrick's Day has not been celebrated with appropriate zeal in New Orleans, nor has the decibel level ever plateaued in all the years of over the top celebration since the very first North American parade in 1737. This my friends is quite an accomplishment and reason enough to make plans now... reserve now and don't miss out on one of the BEST St. Patrick's Day celebrations this side of the Atlantic!

It all began rather innocently in Boston when SOME of the Irish people living there took to the streets to celebrate the formation of an Irish Charitable Society.... (how sweet) but... they can now lay claim to being the first St. Patrick's parade! Since then, St. Patrick's Day now boasts the largest number of ethnic celebrations in North America! New Orleans remembers him with several rousing parades for Ireland's own National Hero and even before a single parade begins, the New Orleans' crowds are out on the streets preparing for the moment a parade begins and sporting a sea of green! From a distance, all one sees is an ocean of green and more than a fair share of "second-line" umbrellas to protect the fair-skinned Irish revelers from the hot Louisiana sun! One thing's for sure, a "second-line" umbrella isn't just for Mardi Gras anymore and in New Orleans, you just never know what you're going to see in a St. Patrick's Day Parade! It's not unusual for anyone marching in the parade to bring their dogs outfitted in green of course just for this special occasion and as ruff and ready to celebrate as any true Irishman could be! In fact, just about everyone brings a pet of most every size and description and to be sure, they are all IRISH to the core in one way or another!

The St. Patrick's Day Floats are accompanied by bands, music and marching clubs, each and every one ready to start their favorite chant heard only in New Orleans, "Hey, Mister, throw me something!" On a picture perfect day, the St. Patrick's Day floats stand out against the clear blue sky and as dusk falls, the myriad of colorful neon signs frame the festivities as only New Orleans can! But beware when it's time to catch something other than beads... like potatoes, carrots, moon pies... or the BIG green one... cabbage! Nothing else seems to matter as both children and adults vie for the best positions in treetops along the parade route, hoping to catch those beads, cabbages or yes... even underwear I'm told; although, very few are seen actually begging for underwear... cabbage is another thing altogether!

The idea is that before long, you'll fill every pocket, sock and bag with potatoes, carrots, cabbage and moon pies to top off a perfect Irish dinner. Hopefully, the loudest or perhaps best, "throw me something, mister" pleas will find themselves with enough plunder for a week-long cooking celebration that's ALL Irish! Look out for the professional parade goers whose well designed plans include tall ladders set up alongside the road where you perch yourself rather precariously high above the crowd for just the right vantage point and eye-contact! The most successful of these so-called professionals will no doubt be eating cabbage for quite awhile. If you haven't seen this ladder design before, you'll notice that it's also kid-friendly, too, with an added seat at the top just for the kiddies-a great way for small children to see over the crowd and enjoy the parade... but only if they are carefully strapped on that precarious "perch!"!

The success of most any New Orleans' parade is judged by the condition of the streets the following day, and St. Patrick's Day Parade is no exception... especially in New Orleans where the parade is THE largest St. Patrick's Day Parade in the South! Sooooo, plan ahead and check for rooms now and for next year, too! It's never too soon for so much FUN! Just remember, the wearing of AND the drinking of the "GREEN" have been a way of life in New Orleans since 1737 (but New Orleanians draw the line at green beignets and they should be applauded for that, though surely we would eat them either way)? But the spirited celebration of St. Patrick's Day is alive and well in a city where parades are a way of life and NOT to be missed! And what goes on in New Orleans is plastered all over New Orleans television as GOOD NEWS only... and that's how we roll on NOTV! Happy St. Patrick's Day!