Streetcars once were everywhere in New Orleans.
By TripSmarter.Com | March 22, 2013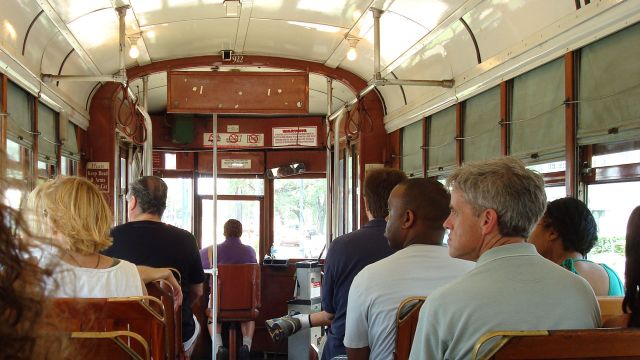 New Orleans, LA
Streetcars are more than just an inexpensive and convenient way to get around New Orleans. A trip on one is an event in its own right. New Orleans streetcars, said to be romantic, historic, and quaint, rock along their tracks at a relaxed pace that's in tune with this laid-back city.

Streetcars once were everywhere in New Orleans. In the 1920s, more than 200 miles of street railway lines were interlaced throughout the metropolitan area. Like elsewhere in the country, bus routes gradually began to displace New Orleans streetcar lines. Luckily for residents and visitors alike, three streetcar lines currently operate in the city.

Although streetcars are technically a type of trolley, visitors calling them anything but "streetcars" may find themselves gently corrected by a local.

The most famous line runs along St. Charles Avenue and passes stately mansions, majestic live oaks, and Audubon Park as it makes its way to its terminus on South Carrollton Avenue. Recognized as the oldest street railway line in the world still in operation, the line began in 1835 when the neighborhood it reaches now was considered a distant suburb of the city. Steam-powered cars used to run along the tracks. For a two-decade period, the vehicles were horse-drawn, and in 1893, the line went electric.

The Canal Line starts in the French Quarter and takes a straight path up Canal Street to an area of historic cemeteries while passing many architecturally important buildings as well. Towards the end of the line, it splits at North Carrollton Avenue, and riders of this spur are taken to a lovely corner of City Park, steps away from the New Orleans Museum of Art and a placid waterway called Bayou St. John. The Canal Line used to be as essential as the St. Charles Line, but it was shut down in 1964 against the protests of preservationists. Streetcar lovers gratefully welcomed the revival of the line in
2004.

The third line, the Riverfront Line, follows the Mississippi River from the French Market along the lower end of the French Quarter. Inaugurated in 1988, popular demand later led to several extensions of this line.

No discussion of New Orleans streetcars would be complete without a mention of A Streetcar Named Desire, Tennessee Williams' celebrated play. Indeed, streetcars used to run to Desire Street in the city's Ninth Ward and had the word "Desire" displayed on the destination panel. Williams once said he could hear "that rattle trap streetcar named 'Desire' running along Royal and the one named "Cemeteries" running along Canal, and it seemed the perfect metaphor for the human condition."

The "Desire" line folded in 1948, but as mentioned, the Canal Line named "Cemeteries" was restored in 2004. New Orleans streetcars continue to sway across the city and remain just as inspirational as ever.

Credit: neworleansonline.com.