Ten Best Things To Do In New Orleans
Check out my list of the ten best things to do in New Orleans, LA.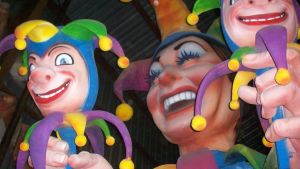 New Orleans
10. Café Du Monde
Ever had a beignet? To me it's kind of like a funnel cake-doughnut hybrid. Sounds good right? Well, we're not the only ones who think that, so go ahead and get in line. The wait for one of these sugar coated pastries can be rather long, especially during the summer. However, for a famous beignet and café au lait combo from Café Du Monde you'll gladly stand in line again tomorrow morning.

9. The Voodoo Music Experience
Eminem, Jane's Addiction, Widespread Panic, Kiss, The Flaming Lips, Wolfmother, Silversun Pickups, Drive By Truckers and Irvin Mayfield are just a few of the names you'll find on this year's outdoor concert lineup. After the concerts have ended each day another party begins, 20 different events are scheduled at 10 locations throughout the city showcasing some of the best local talent New Orleans has to offer.

8. Sugar Bowl
It's like mini Mardi Gras for two very lucky college football teams and their fans. The city swells with die-hard fans that are ready to booze-win or lose- on Bourbon Street for a few nights each January. If your team is lucky enough to go- follow them.

7. Stroll Down Magazine Street
If you prefer clean streets to those found in the French Quarter for your daily walk, then you won't want to miss the quaint feel of this long stretch of road. Miles of corner cafes, bakeries, bars and boutiques fill this tree-lined street. In between ducking in and out of shops you will find gorgeous homes and discover locals who love to roam this area just as much as the tourists.

6. Take a Haunted History Tour
The Haunted History and Ghost Tour meet at Rev. Zombie's Voodoo daily to check out the haunted landmarks of the French Quarter. This walking tour includes a stop at the famous St. Louis Cemetery to see the tomb of Marie Laveau, a legendary voodoo priestess.

5. Shop the French Market
Established sometime around 1791, this is the Nation's oldest city market. Sample fine cuisine, listen to intoxicating jazz, or shop for items both handmade and mass-produced from old antiques to new designer "knock off" sunglasses.

4. Catch A Street Performance at Jackson Square
Full of energy and entertainment, Jackson Square is home to many artists. Find painters and street performers by day and plenty of great Jazz Musicians at night. Here you will also find the statue of Andrew Jackson that was erected for his courage in the Battle of New Orleans.

3.The French Quarter
So what if this place gets more than a little touristy? Millions of tourists flock to the Quarter every year so how could they all be wrong? Well, they're not. No trip to NOLA is complete without a walk through the historic French Quarter. Many of the buildings in the Quarter date back to a time before New Orleans became part of the United States. Walking around in this area you are bound to feel as if you were walking back in time. So enjoy the people watching as you wander these cobble stone streets of the Big Easy.

2. Jazz Fest
What's that you say? You don't like Jazz? Well, worry not, Jazz Fest made the number 2 spot due to the fact that despite its name, it offers something for everyone. From Gospel to Zydeco and old Rock to new, you'll find your groove. Previous years have hosted talent such as Bon Jovi, Jimmy Buffett, Kings of Leon, The Neville Brothers, Bonnie Raitt, Sugarland, Tim McGraw, Jack Johnson, Tony Bennett, Solomon Burke, Ben Harper, The Famous Rocks of Harmony and many, many more. Don't really like music? Then go for the food. You'll taste authentic Cajun treats at every corner. Gorge on boudon balls, jambalaya, and crawfish po' boys plus other options from around the world.

1. Mardi Gras
This is a no-brainer. New Orleans is known worldwide all because of their yearly Mardi Gras celebrations held from Fat Tuesday to the day before Ash Wednesday. It doesn't matter if you come for the parades or the parties, just come. If you have never experienced Mardi Gras you need to. Stop reading and book a hotel. NOW!