With the re-opening of The Roosevelt another gift has been returned to the archive of New Orleans history.
By Janis Gallo - Destination Network | March 22, 2013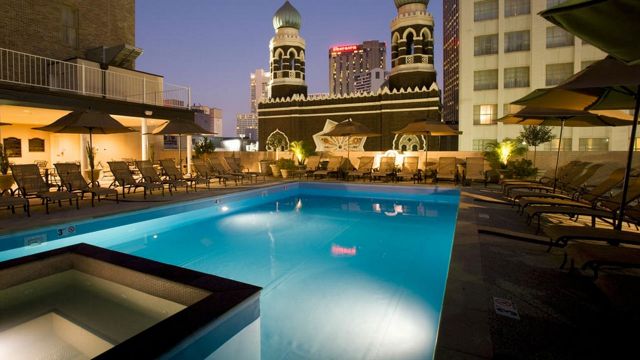 New Orleans, LA
Resurrected, Restored…Resplendent -- the legendary Roosevelt Hotel re-opened its doors in July. This landmark hotel embraces 106 years of history with more legendary stories than thi s article can accommodate, but one thing we can recommend -- choose this property to "accommodate" you when visiting New Orleans. A $145 million restoration has literally uncovered and restored every architectural details of it's former splendid self--and the grandeur of the place is matched by the modern amenities and the luxury you can expect of a Waldorf Astoria Collection.

It's not everyday you can look through the portal of a hotel and know that 80 miles of highway were built just so the governor could get a drink. The legend of Huey P. Long and Airline Highway is one of so many stories that echoes in every room, corridor and venue at The Roosevelt. The "new" Roosevelt is intent on bringing the experience of the original property to its guests. They are off to a great start. The Sazarac Bar with its plush appointments, African walnut bar and the vivid Paul Ninas Murals is the place to experience it's namesake cocktail, and a Ramos Gin Fizz synonymous with Huey P. Long. The Blue Room, where the likes of Frank Sinatra and Louis Armstrong entertained supper club dinners is offering brunch, entertainment and all the grandeur of its former club and event space. Dining traditions will continue with the addition of John Besh's rural Italian cuisine at Domenica. There is Teddy's Café, The Guerlain Spa and all this beckoning, as you stroll along the fabulous city block long corridor under a canopy of crystal, columns and clay inlays. Oh! Did we mention the pleasure of a luxurious room?

New Orleans has a storied past, and a rich tradition of preserving and bringing forward its culture, music, cuisine, people, and architecture for new generations. With the re-opening of The Roosevelt another gift has been returned to the archive of New Orleans history that we can all live and experience again and into the future.