Wintertime in New Orleans is cause for celebration.
By | March 22, 2013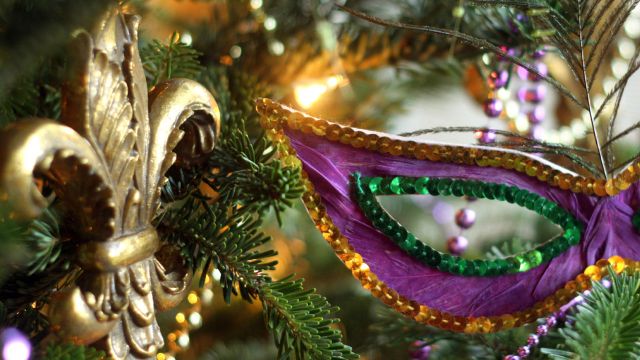 New Orleans, LA
What would New Orleans be without its sultry, hot and humid weather? Well, famous as that southern heat may be, wintertime in New Orleans is cause for celebration and there's really no better time to visit this grand and historic city. People come from all over the world to enjoy the milder weather and walk the streets of the French Quarter without breaking a sweat! With Christmas on the horizon and holiday decorations on every doorstep, even the wildly enthusiastic celebration of New Year's Eve in New Orleans is only a prelude to the biggest party of them all... Mardi Gras! But what a "prelude" it is as there's no time like the present to enjoy this one-of-a-kind city where just about everything is bigger and better, like the mighty Mississippi River that runs right through it. The river's famous paddlewheels and steamboats have been part of the city's landscape since the early 1800's and people are still floating up and down the river, dining and dancing on the Creole Queen or the Steamboat Natchez. You can catch a glimpse of the back bayous of Honey Island Swamp and an alligator or two with Cajun Encounters or stay on land and enjoy the Audubon Zoo or Aquarium of the Americas. Harrah's Casino also provides plenty of entertainment and Mardi Gras World is well worth a visit this time of year as preparations for the "big event" are at an all-time high. It should be abundantly clear that winter is anything but a distraction and celebrating comes easy in New Orleans... all year long!

The French Quarter is the heart and soul of New Orleans and if shopping tugs at your heart strings, look no further than the French Market for bargains galore! Merchants from all over the world bring their wares to this open-air "flea market" that combines traditional items such as clothing and antiques with jewelry, art, candles and crafts, just to name a few. Then look for other unique items at Earth Odyssey on Chartres Street-a sanctuary of gems, jewels and sterling silver offerings, as well as holistic services such as Reiki and Chakra Balancing. Maison Royale is arguably the leading jeweler and fine art dealer in all of New Orleans. You'll be surprised, delighted, even transformed by their discerning style and exquisite taste! Light up your life... literally, at Fischer Gambino and look for the very best hand made gifts at the Great Artists Collective on Royal Street-it's more fun than any art gallery has a right to be and the wine is free! Wherever you go, one of the best experiences may be an interesting encounter with a "local character," or one of your favorite artists busily at work in his gallery. The pace is a little slower this time of year so there's plenty of time to smell the roses and carry on a conversation, too!

There are several notable museums in New Orleans including the National World War II Museum and the New Orleans Museum of Art, or NOMA as it is more commonly known. You'll find even more history and a lot of music at the Historic New Orleans Collection, but the number one holiday extravaganza takes place in City Park. "Celebration in the Oaks" pays homage to the park's mighty oak trees by filling them with thousands, maybe millions of twinkling lights. The spectacle is breathtaking and the mild winter weather makes for a comfortable nighttime stroll through the park. Another time honored tradition is the lighting of the bonfires on the banks of the Mississippi. If you happen to be in New Orleans on Christmas Eve... don't miss it!

For a close up and personal look at how the locals live and decorate their homes for the holidays, be sure to take one of the Christmas Home and Garden Tours. Many of New Orleans' best hotels dress up for the holidays with children's choirs at the Hotel Monteleone, Teddy Bear Teas at the Royal Sonesta, and perhaps the most outlandish of all is the Roosevelt Hotel with its seasonally decorated lobby that stretches the entire length of the landmark structure on Baronne Street. Of course, there's always "fine dining" in New Orleans, but this is the only time of year you'll find (fake) snow on the ground when dining at Grand Isle on Fulton Street, or a "Home for the Holidays Show" at House of Blues. Many other fine restaurants, such as Palace Café, SoBou, Dickie Brennan's Steak House or the renowned Commander's Palace also offer holiday dining and luncheons served with a bell to help ring in the holidays. New Orleans is also famous for its bars and nightclubs that never close, as well as the proliferation of live music and entertainment available inside and out all year long! Just about everything is within walking distance or just grab a horse-drawn carriage and enjoy a comfortable, centuries-old way of getting around the cobblestone streets of the French Quarter.

There's never a bad time to visit the "Big Easy," but wintertime is clearly one of the best times to get on down to New Orleans...either before or after the holidays when Mardi Gras begins in earnest. It's a guaranteed good time and spirits are always high, even when the temperature is not! "Laissez les bon temps rouler!"