The French Quarter Festival is New Orleans OWN party! A time for the residents of this wild city to let loose.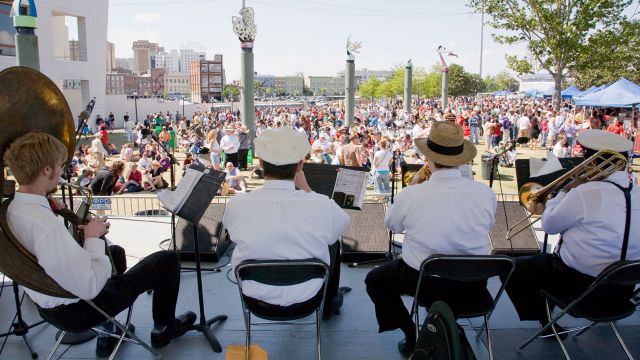 New Orleans, LA
The Annual French Quarter Festival employs hundreds of musicians and provides an estimated economic impact of $75 million dollars for the city during three short days of FUN in the Quarter. The festival is family friendly, and a time for locals and tourists alike to come to the Crescent City and enjoy the Quarter. Over the three-day weekend, more than 150 musical performances will take place on fifteen stages throughout the French Quarter, providing 250 hours of FREE entertainment.
NEED TO KNOW:
What:
French Quarter Festival
Nearly 60 food and beverage booths will be located in Jackson Square and Woldenberg Riverfront Park, making up what has become known as the "World's Largest Jazz Brunch!" This signature event features classic New Orleans dishes such as Jambalaya, Crawfish Bread, Gumbo, Red Beans & Rice, Muffaletta, Cochon du Lait, and Cajun meat pies...and everything is within walking distance! Food lovers will also enjoy Crawfish and Goat Cheese Crepes, Pork Chops on Sugar Cane Sticks, Jamaican Jerk Chicken, Grilled Chicken Livers, Fish Tacos, White Chocolate Banana Bread Pudding and Praline Creme Brulee. The "World's Largest Jazz Brunch" is served daily in Jackson Square and at the Louisiana State Museum's Old US Mint, and in Woldenberg Riverfront Park. And it wouldn't be New Orleans without beverages to match including those world famous Hurricanes and a wide assortment of Daiquiris and Margaritas, just to name a few!
Since 1984, the French Quarter Festival has grown from traditional jazz and classical performances on Royal and Bourbon Streets into Louisiana's largest annual FREE music festival. It has also become a grand showcase for the culture and heritage of New Orleans...and the ONLY place to be! It's not just another great party in the Quarter, it's one of THE great parties in the Quarter!