New Orleans' 4th of July celebration known as Go Fourth on the River is a day-long festival of freedom.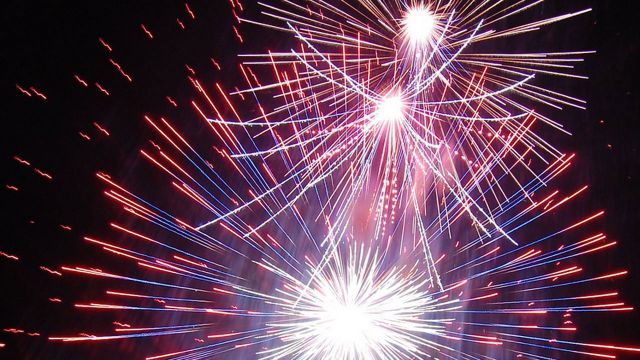 New Orleans, LA
When New Orleans throws a party, everybody shows up! Expect this GO FOURTH ON THE RIVER celebration to be more of the same, as thousands flock annually to the Crescent City to watch a truly spectacular display of fireworks echoing off the man-made canyons of downtown New Orleans and reflecting off the Mighty Mississippi.
NEED TO KNOW:
What:
July 4th in New Orleans - Go Fourth on the River
Where:
Woldenberg Park
1 Canal St
New Orleans, LA 70130
"Go Fourth" was voted one of Southeast Tourism Society's "Top 20 Events in the Southeast USA" and ranked 5th "must see" fireworks display in the U.S. by American Pyrotechnic Association. New Orleans celebrates our nation's Independence with a full day's worth of events and the entire riverfront gets into the act, with many area businesses hosting special Independence-themed shows. The Annual GO FOURTH ON THE RIVER will feature entertainment and the Dueling barges Fireworks extravaganza! Woldenberg Park is the setting for many of the events associated with July 4th in New Orleans...concerts by local, regional and national acts, festival entertainment and, of course, great food!
Enjoy the music, the food, and the kind of fun you'll only find in New Orleans while the night sky fills with explosions of color. The display can be seen from anywhere along the crescent of the river, especially from the Woldenberg Park area. The fireworks begin at 9pm, so head towards the river early.
Include New Orleans in your Independence Day plans... after all, this just may be the most "Independent" and free city in America!