San Fermin Running of the Bulls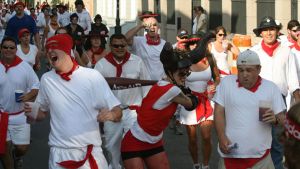 New Orleans, LA
San Fermin in Nueva Orleans (SFNO) is an annual festival in New Orleans featuring an Encierro (bull run), which replicates and pays homage to the world famous Encierro of Pamplona, Spain, or "The Running of the Bulls", only our bulls are none other than members of the Big Easy Rollergirls and select participants from other rollerderby leagues across the country!
When:
July 7 - 9, 2017
Where:
Various Locations
This year, San Fermin in Nueva Orleans will be celebrated from July 7 - July 9.
At this point you might be asking yourself "Why?", to which we can only respond, "¿Por qué no?"
For more information visit nolabulls.com.