Louis Satchmo Armstrong is an American classic...the father of jazz!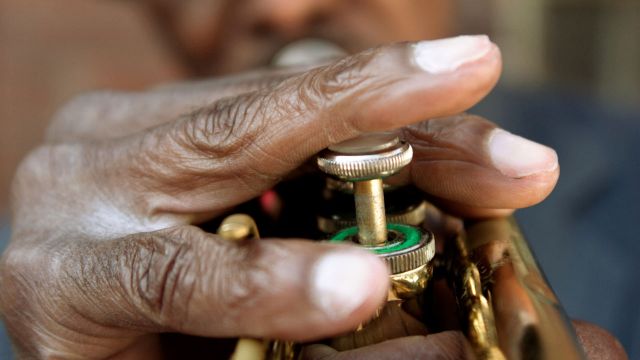 New Orleans, LA
Louis Armstrong was born in New Orleans on August 4, 1901. By the time of his death in 1971, he was world famous..known by the single moniker...Satchmo! Satchmo's influence as an artist is still very much alive today and his unique way of playing and singing jazz will never be matched. There is a reason he was often referred to as the "Father of Jazz!"!
For five decades Armstrong recorded hit after hit, many of which are still heard today on the radio, television and in films. He was also an accomplished writer, penning two biographies, countless magazine articles and letters, as well as many of the hit songs for which he is remembered. His unabashed joy and charisma is still seen on the silver screen. He starred in countless films where his many gifts as a comedic actor were perfectly framed. Who could ever forget his effervescent appearance in Barbra Striesand's, "Hello Dolly?"
When Satchmo wasn't in front of the camera, he was doing live concerts and touring all over the world...often doing more than 300 concerts a year! Many of the songs he performed during that time are now considered jazz standards. Louis "Satchmo" Armstrong was truly unique and one of the first great celebrities of the 20th Century, entertaining millions around the globe...from heads of state and royalty to kids on the stoop in his hometown! Despite his fame, he lead a simple...he was a man of the people and people looked up to him. Now, the mere mention of his name brings a smile to everyone's face! It is certain that his smile will live forever...and never be forgotten!
New Orleans and Louis Armstrong seem to go hand in hand- the wail of his trumpet and timbre of his well-known voice were heard in the French Quarter for many years. In honor of the great man, New Orleans throws one of its great parties every year...in the summertime...SATCHMO SUMMERFEST! It's one of New Orleans' most popular festivals, it celebrates the lasting influence of Jazz icon, international cultural ambassador, and native son Louis Armstrong. The four-day event will take place at locations all around the city. The music heats up (and so does the temperature) but if you're a jazz fan, it's a great excuse to come visit the great City Of New Orleans...the city that never sleeps!
Satchmo SummerFest is the perfect way to end your summer-combining great New Orleans Jazz and food. There's no better place than the birthplace of Jazz to celebrate the great man of Jazz, Louis Satchmo Armstrong! From brass bands to big bands and early jazz to All-Star sounds, you'll wonder whether it's ever "Sleepytime Down South" as you revel in the music of the man who spread the language of jazz around the world...Oh yeaaahhhhh...