Soul Fest at Audubon Zoo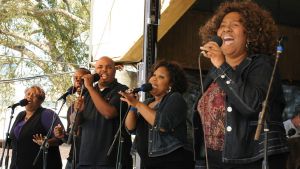 New Orleans, FL
Soul Fest is one of New Orleans biggest celebrations of African American history with over 21,000 people enjoying the festival in 2010.
When:
March 3 - 4, 2012
Where:
Audubon Zoo
6500 Magazine St
New Orleans, FL 70118
Soul Fest is a two day family oriented event and will again in 2012 feature live musical performances by local Jazz, Rhythm & Blues, Gospel and Hip Hop artists. Soul food prepared by local restaurants and caterers will sold for purchase, as well as hand made arts and crafts.
Audubon Zoo
6500 Magazine St
New Orleans, FL 70118
Children will be able to enjoy hands on activities at the Kid's Cultural tent, and visitors of all ages can receive free wellness information from local health organizations. Soul Fest is always free with Zoo admission.
Soul Fest began in 2003, recent Soul Fests have presented such talented artists as trumpeter extraordinaire Irvin Mayfield, gospel great Yolanda Adams, the Hot 8 and Rebirth Brass Bands and a number of uniquely New Orleans Mardi Gras Indian Big Chiefs.
For more information visit auduboninstitute.org.