Treme Creole Gumbo Festival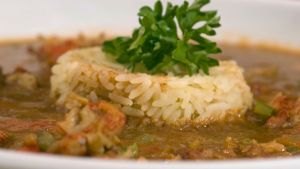 New Orleans, LA
The Annual Treme Creole Gumbo Festival honors the role of the historic Treme neighborhood in the development of New Orleans music, cuisine and culture. With one stage showcasing the best jazz, blues and R&B from the Treme, plus gumbo cooking demonstrations by the finest chefs in the city, the festival offers fun for the whole family.
When:
November 18 - 19, 2017
Where:
Jazz & Heritage Center
1225 N. Rampart St
New Orleans, LA 70116
The Treme Creole Gumbo Festival also includes our Jazz & Heritage Holiday Bazaar, where official Jazz Fest t-shirts, posters and other merchandise will be for sale, along with hand-made local clothing, jewelry and home furnishings. The two day event will take place between 11 am and 5:30pm each day.
Jazz & Heritage Center
1225 N. Rampart St
New Orleans, LA 70116