Zurich Classic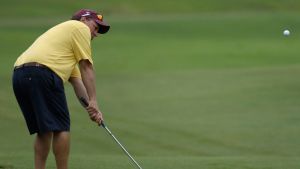 New Orleans, LA
New Orleans has played host to a PGA TOUR tournament since 1938, when the Greater New Orleans Open Invitational was introduced at City Park Golf Club. The tournament was not held from 1949-1957, then resumed at City Park before moving to Lakewood Country Club in 1963 and then to English Turn Golf & Country Club in 1989. It now relocates to the TPC of Louisiana and a golf course designed by Pete Dye, with input from player consultants Steve Elkington and Kelly Gibson.
When:
April 24 - 30, 2017
Where:
TPC of Louisiana
About the Fore!Kids Foundation: The Fore! Kids Foundation produces the annual stop on the PGA TOUR in New Orleans. The Foundation also hosts an annual American Junior Golf Association (AJGA) event at the Tournament Players Club of Louisiana, a summer Junior Golf Program, the Golf Ball (a black tie gala) as well as a series of events in which amateurs participate and the proceeds are distributed to a specific charity. In the last six years alone, the Foundation has been able to raise more than $5 million for area charities. Additionally, the Fore!Kids Foundation, through the PGA TOUR event, provides an estimated $24 million in annual economic impact to the City and State. The tournament is televised to an international audience, allowing millions of people to see some of the area's greatest attractions.
About the TPC of Louisiana: The Tournament Players Club of Louisiana is a public access, daily fee golf facility owned and operated by PGA TOUR Golf Course Properties, Inc. The facility is located 15 minutes from the world-famous French Quarter and downtown New Orleans. The golf course was designed by renowned golf course architect Pete Dye with input from PGA TOUR player consultant Steve Elkington and associate player consultant Kelly Gibson, a native New Orleanian. For more information on the TPC of Louisiana, please contact Brad Giacone at 866.NOLA.TPC or visit the website at tpc.com. The site features video and audio interviews with Dye, the course layout and scorecard, as well as updated photos and news.